Dr. Dre Lost $200 Million From His Apple Beats Deal From Social Media Video, New Book Reveals
The music mogul lost $200 million from the billion-dollar acquisition after a social media video leaked the details early.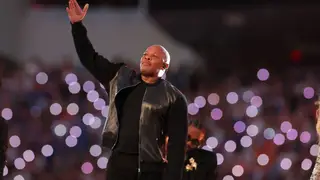 Music mogul Dr. Dre nearly lost the lucrative deal that made him a billionaire - in addition to $200 million - due to an early leak from a social media video on the acquisition.
In a new book by New York Times reporter Tripp Mickle titled 'After Steve: How Apple Became A Trillion-Dollar Company And Lost Its Soul', the author writes about the famous deal between Dr. Dre and Jimmy Iovine to purchase Beats Headphones.
Mickle reveals that the duo lost $200 million from the initial offer after a  social media video of Tyrese was shared, rejoicing over the news. Iovine received a call from Diddy about the news after his team warned him about sharing the news before the deal was signed.
"At 2:00 a.m., Iovine got a call from Puff Daddy, who was screaming that Dre and Tyrese, a rapper, were talking about the deal in a Facebook video. Iovine pulled up the video and cringed as he saw Tyrese bragging about being drunk on Heineken in a recording studio. When word of the video reached [Tim] Cook, he summoned Iovine and Dre to [Apple's headquarters in] Cupertino," the book excerpt reads.
"He invited them into a conference room for a private conversation. Iovine was anxious and afraid that Cook was going to kill the deal […]. He told the music executives that he was disappointed and wished that Dre's social media outburst hadn't happened but said that the video hadn't shaken his conviction that buying Beats was right for Apple."
The company was able to use the social media fiasco to re-negotiate the teams of the deal. Early reports originally suggested that the cut was because of its low subscriber count from its platform. The tech company purchased the headphones company in 2014 in a deal worth $3 billion from owners Dr. Dre and Jimmy Iovine.