Melissa De Sousa Says She Was "Too Pretty" for Film Role
The Best Man Holiday actress opens up about being unemployed and staying motivated.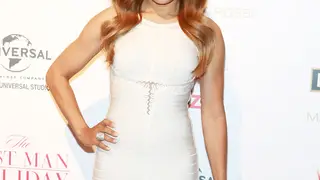 You'd think that the world belongs to the beautiful people, but if you ask Melissa De Sousa she'll tell you there's a thing as being "too pretty." In her recent interview with Rolling Out magazine, The Best Man Holiday actress says she was turned down for a movie role because of her appearance.
"I remember when I auditioned for Hustle & Flow, which is the one [movie] Terrence [Howard] got his nomination for. You know they thought I was 'too pretty' and I wouldn't be able to play a down-on-her luck stripper. But I begged them to see me. You know I went in and did my thing. I ended up screen-testing. The person who got it was Paula Jai Parker," she says.
De Sousa also opened up about falling on hard times when gigs weren't coming in and needing to file for unemployment just to get by.
"There were times I didn't work for maybe two or three years," the 46-year-old says. "There was a time I didn't have an agent for one reason or another. When the agent dropped me I was like, 'OK, maybe I am not in the business anymore.' God-willing you can collect unemployment from the residuals from other things you have done in the past. You collect your unemployment and then you pray."
But the Queens, New York, native doesn't let those hard times keep her from pursuing her goals and uses her tough attitude to propel her forward.
"You have to have an attitude that nothing's gonna stop me. I think that's just my New York kind of attitude — survival of the fittest. That's why I love that song ['Empire State of Mind'] so much because that's how it is when people go off to New York."
BET.com always gives you the latest fashion and beauty trends, tips and news. We are committed to bringing you the best of Black lifestyle and celebrity culture. 
Click here to subscribe to our newsletter.

(Photo: Robin Marchant/Getty Images)