Rep. Karen Bass to Face Billionaire Developer Rick Caruso For L.A. Mayor In November Runoff
Neither candidate earned more than 50 percent of the vote in the primary so voters will determine who wins in the fall election.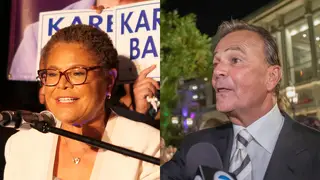 California Rep. Karen Bass and billionaire real estate developer Rick Caruso face each other in a November rematch to decide who will become  the next mayor of Los Angeles.  Since neither candidate earned enough votes to win outright in Tuesday's primary, the race will be decided in the general election.
The Associated Press called the race as a runoff late Tuesday. The AP counted early mail-in ballots putting Caruso at 41% and Bass with 38% of the votes. A candidate would need to clear 50% to avoid a runoff. The next candidate out of a dozen contenders, former California Senate leader and current L.A. City Councilman Kevin de Leon came in third with 7% of the vote.
The winner of the contest between Bass and Caruso will likely have tremendous influence in how the city handles some of its most important issues. Questions around how the city of Los Angeles will handle policing and crime, climate change, and affordable housing access and homelessness will be largely decided by the person voters select next fall.
Bass, a former chair of the Congressional Black Caucus, got her political start as a progressive community activist in South Central L.A. She would be the first woman to serve as mayor of Los Angeles and she would be just the second Black person to hold the office after Tom Bradley who served from 1973 to 1993.
Among several others, Bass had been on candidate President Biden's shortlist for vice presiden during his 2020 campaignt, and she is supported by some big Hollywood names including Steven Spielberg, filmmaker J.J. Abrams and actress Jennifer Garner.
Caruso, ranked by Forbes as number 261 on its list of wealthiest people in the U.S., is  a luxury mall developer. Until running against Bass, he had been a Republican. Caruso has a history of supporting business interests, and he has been able to fund his own campaign with tens of millions of dollars in ad spending.  Caruso sits on the Ronald Reagan Presidential Foundation and boasts being endorsed by the police union and fellow billionaire, Tesla CEO Elon Musk. He's also got Snoop Dogg and Kim Kardashian as supporters.
Current Mayor Eric Garcetti is prohibited by term limits from running again. He has been nominated by President Biden to serve as U.S. ambassador to India.