Commentary: Making an Iraq Out of Africa
As the word "terrorist" gets thrown around by world leaders, it looks like Africa may be in for the Iraq treatment.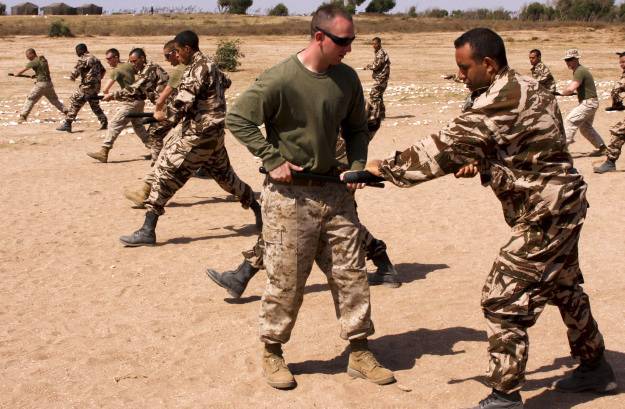 News flash: Those terrorists we have been busy chasing since the old days of Bush are now "radical Islamists" hanging out in that big continent-shaped country called Africa.
The recent hostage situation in Algeria is a terrible crisis for the governments and individuals involved. It was most certainly an attack. But it's still unclear how the word "terrorist" belongs anywhere in its description.
Hostage situations and attacks on oil pipelines happen all the time in Nigeria, where no one so much as bats an eyelash as the violence and the resulting oil spills have polluted the environment and destroyed the livelihoods of entire communities.
But as we learned from previous U.S. and European engagement around the globe, the rules are a little different when the country involved (Algeria) is the largest natural gas producer in Africa and a major supplier of natural gas to Europe.
That's when we get really angry. And normally intelligent-sounding officials like Secretary of State Hillary Clinton slip back into the simplistic language that sent us to war under George W. Bush's fearless direction.
"When you deal with these relentless terrorists, life is not in any way precious to them," U.S. Secretary of State Hillary Clinton said about the Algerian hostage crisis Thursday.
French Prime Minister Jean-Marc Ayrault said the Algerian hostage situation "confirms the gravity of the terrorist threat and the necessity to fight it with a determined and united front."
These "terrorists" have been described as "radical Islamists," which is essentially trading one amorphous, meaningless word for another phrase.
I suppose that these Algerian "radical Islamists" are the same "radical Islamists" that are wreaking havoc in Mali — an intervention mission that France readily took up and then quickly announced that it was "unclear" when they would ever leave.
George W. Bush once said, "Our war on terror begins with al-Qaeda, but it does not end there. It will not end until every terrorist group of global reach has been found, stopped and defeated."
Thanks to the helpful consolidation of al-Qaeda, who is purportedly conscripting little terrorists near and far, the endless stream of wars, drone strikes and interventions never has to (and never will) end.
The opinions expressed here do not necessarily reflect those of BET Networks.
BET Global News - Your source for Black news from around the world, including international politics, health and human rights, the latest celebrity news and more. Click here to subscribe to our newsletter. 
 (Photo: USMC photo by Army Sgt. Whitney Houston)