The Internet Is Mad That Ne-Yo's Wife, Crystal Smith, Bleached Her Hair While 5 Months Pregnant
The ongoing debate whether it's safe or not for the baby continues.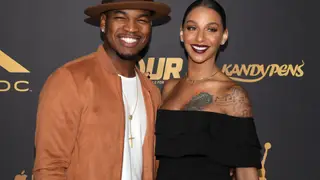 Pregnancy is typically a time where you're allowed to eat whatever you want and people constantly compliment you on your glow.
Sadly, not for Ne-Yo's wife and Platinum Life cast member, Crystal Smith. She's currently been dragged for dyeing her hair platinum blonde. The catch? She's pregnant, and according to her commenters, that's a big no-no since the chemicals are supposedly harmful to the baby. 
"Is dying your hair while pregnant safe? I hear so many stories about can and can nots. Just wondering," one questioned. "Risky to bleach or dye while preggers 😱" another swiftly responded. Some trolls even found the time to tell her that the new bombshell look "aged her" and she should return back to "long and dark hair." Yikes! 
We did a quick Google search on the hot topic and the reviews are mixed. According to the Mayo Clinic ​(and many other researchers), your skin does not absorb enough chemicals from the dye to cause harmful effects, for a mother or the baby. ​
"For years I found myself suggesting that woman not use chemicals during pregnancy because it was believed that it was 'possible' or not proven either way, if color could get in our bloodstream," explains veteran stylist Tina Pearson. "So, to be safe I would suggest to avoid during first trimester."
Crystal recently flexed on the gram, showing off her bump—and sharing that she's five months pregnant—meaning she's in the clear, technically. All we can say is each pregnancy is different, and so is each mom's comfort level.
Seriously, we aren't here to judge! At the end of the day, the best bet is discussing it with your doctor... what do you think?