Snoop Dogg, BADBADNOTGOOD and Kaytranada Debut Possibly the Most Anti-Trump Music Video We've Seen Yet
The satirical clip really takes it to a new level.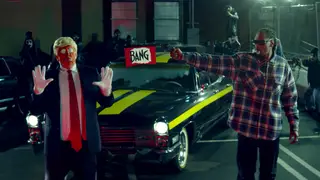 Throughout the entire duration of the election, it came as no surprise that a vast majority of the hip-hop community exercised a strong distaste for the president elect, Donald Trump.
With many taking to their music and social media platforms to advocate against the president, such a strong perspective hasn't changed all too much since Trump won the election. As songs like YG and Nipsey Hussle's "F**k Donald Trump" and Common's "Letter to the Free" among those directly discussing the current political climate, Snoop Dogg's rework of a BADBADNOTGOOD and Kaytranada track is the latest to join the ever-growing anti-Trump soundtrack.
The single "Lavender" takes on a new form with Snoop Dogg hopping on it to give the song an inevitable anti-Trump twist, with the involved recording artists recently releasing a striking visual to pair with the not-so-subtle track.
The music video, directed by Jesse Wellens and James DeFina, does not shy away from the theme of absolutely disliking Trump and everything his presidency stands for, even creating a character with his likeness that is dressed like a clown.
The visual takes on a satirical form, with Snoop pulling a gun on the clown-version of Trump, Trump trying to smoke a blunt with the rapper and even an announcement being made deporting all dogs out of the country.
Of the inspiration for the music video, Snoop shared with Billboard why they wanted to use a clown as a metaphor for the president.
"The ban that this motherf**er tried to put up; him winning the presidency; police being able to kill motherf***ers and get away with it; people being in jail for weed for 20, 30 years and motherf***ers that's not Black on the streets making money off of it — but if you got color or ethnicity connected to your name, you've been wrongfully accused or locked up for it, and then you watching people not of color position themselves to get millions and billions off of it," Snoop explained regarding why he chose to address Trump during this new music video. "It's a lot of clown s**t going on that we could just sit and talk on the phone all day about, but it's a few issues that we really wanted to lock into [for the video] like police, the president and just life in general."
He also added that he feels nobody is dealing with the real issue that Trump is president so he wanted to take matters into his own creative hands.
"Nobody's dealing with the real issue with this f***ing clown as president and the s**t we are dealing with out here," he added. "So I wanted to take time out to push pause on a party record and make one of these records for the time being."
Take a look at the result of Snoop Dogg, Kaytranada and BADBADNOTGOOD's remix in the hilarious and thought-provoking music video below.