'Red Table Talk': Ashanti Says She 'Got The Bat' After Sister's Abusive Ex Was Stalking Her
The Grammy award-winning singer is recalling the time she took matters into her own hands.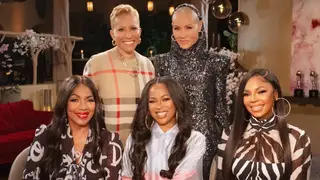 Grammy award-winning singer Ashanti is joining the ladies of the Red Table on the next episode of Red Table Talk with her sister Kenashia and their mother Tina, to talk about how domestic abuse has impacted their family.
In the episode titled "That Was the Darkest Time in My Life," the R&B star's younger sister opens up about the domestic violence that she endured for several years and how her alleged abuser stalked her after he reportedly knocked her teeth out.
"He did continue to try and reach out. He did continue to try to come around and come with gifts," Kenashia shares. "There were times where I was on my best friend's bed sleeping and he was literally in the window taking pictures of me and sending pictures to my phone."
Ashanti said she decided to then take matters into her own hands after her sister reached out to her.
"I was like 'Oh, nah," the "Foolish" artist said. "I went into the garage, I got the bat. I pulled up in the truck. I had vaseline. I was ready. I was by myself, I had the adrenaline."
Back in October, which is also Domestic Violence Awareness Month, Ashanti and Shia both shared chilling images about the abuse that took place.
"It is Domestic Violence Awareness month. Words will never be able to express the amount of pain, fury and disgust I feel reliving these moments," Ashanti captioned her post.  "But at the same time I am so proud of how strong, courageous, resilient and unbreakable you are. My sister is a warrior! I love you deep and infinitely."
Adding, "Thank you for being so brave and bringing awareness to this evil, vile and sad behavior that so many women face every day. You did it! You won! Some women feel so scared that they have no way out … by sharing your story, you bring hope, strength [and] continue to raise awareness for Domestic Violence."
Be sure to tune into the next episode of RTT on Wednesday, Nov. 23 at 9 a.m. PT/12 p.m. ET on Facebook Watch.