Update: New Video Shows Woman Who Fatally Shot Boyfriend While He Was Driving Calmly Walking Into Her Home Moments Later
Police charged Martina Westcott with murder after she confessed to police.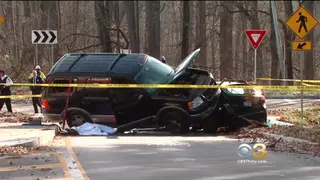 Footage of Martina Wescott, the woman who shot her boyfriend in the head while he was driving their vehicle, has been released.
The video shows Wescott calmly walking outside of her Philadelphia home just minutes after killing Terrell Bruce. Wescott turned herself into police late last week and admitted to being responsible for Bruce's death. Police have charged her with murder.
A Philadelphia woman was was reportedly having a fight with her boyfriend while he was driving their vehicle Tuesday (December 27), and apparently tempers flared far beyond the breaking point.
That's when Martina Westcott pulled out a gun and shot Terrell Bruce, 33, in the head while still behind the wheel — killing him and causing their SUV to swerve off the road, crash and flip over.
Police were initially unsure of what caused the crash when they arrived on-scene because Westcott had gotten out of the car and fled. Law enforcement would conclude their on-scene investigation by finding a bullet lodged in Bruce's head. A witness also said they saw a woman climb out of the vehicle and flee the scene. Confronted with this, Westcott turned herself in on Wednesday and admitted to killing her boyfriend.
A GoFundMe page has been set up by Bruce's twin brother, Brandon. That effort has already raked in over $24,000 as of Friday. Through that page, Brandon described his brother as an unselfish, hard-working person. "A selfless, hard worker, widely known for putting the interests of others ahead of his own, Terrell was a well-regarded pillar in the community despite his young age," he wrote.
Perhaps the most eerie part of the whole tragic murder was a Facebook post Martina Westcott made just before the fatal shooting. "If someone ever suggests, 'Don't fall in love, he might break your heart,' your only response should be, 'don't live, you might die,'" she wrote.
Watch a local news package on the shooting below.