How Celebrities Are Preparing For Babyface And Teddy Riley's Instagram Live Battle
It's been labeled as a "Celebration of Black Music Excellence."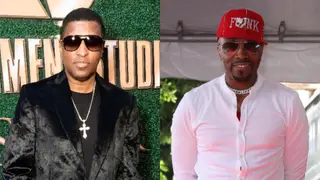 The Twitterverse went crazy earlier this month after it learned that legendary music producer Teddy Riley announced he and production counterpart Babyface would go head-to-head in an Instagram Live beat battle.
The battle was originally scheduled for earlier this month, however it was postponed due to Babyface and his family contracting COVID-19. Not that he's clear of the disease, it's go time.
Tonight's the night, and music fans of all ages are excited for what's been billed as a "Celebration of Black Music Excellence." The catalog between the two icons span three decades and following the massive success of last weekend's battle between RZA and DJ Premier, the anticipation has only been building.

See what people are saying in anticipation below.

The battle begins at 9 pm EST on each's Instagram Live. Peep it when it begins here.