NFL Legendary Running Back Jim Brown Dies At 87
One of the fiercest running backs in football history walked away from the game at the peak of his career with multiple NFL records.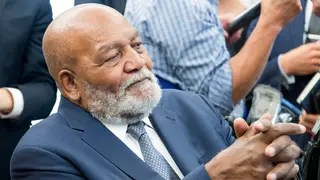 NFL Hall of Fame legend Jim Brown, who went on to star in movies and became a civil rights advocate after his football career ended, has died Thursday (May 18) at age 87.
"He passed peacefully last night at our LA home. To the world he was an activist, actor, and football star. To our family, he was a loving and wonderful husband, father, and grandfather. Our hearts are broken," his wife, Monique Brown, said in an Instagram post.
Selected as a first-round pick in the 1957 NFL draft from Syracuse University, Brown played nine seasons for the Cleveland Brown. Brown was one of the most powerful and productive running backs in NFL history, leading the league in rushing for eight seasons. He led the Browns to their last NFL title in 1964.
"It's impossible to describe the profound love and gratitude we feel for having the opportunity to be a small piece of Jim's incredible life and legacy," the Browns tweeted.
When Brown walked away at the peak of his career from the NFL at age 30, he amassed a league record of 12,312 yards rushing, 15,459 combined net yards, and 126 career touchdowns. He was inducted into the NFL Hall of Fame in 1971.
"On behalf of the entire NFL family, we extend our condolences to Monique and their family," said NFL Commissioner Roger Goodell. "Jim Brown was a gifted athlete -- one of the most dominant players to ever step on any athletic field -- but also a cultural figure who helped promote change."
After his retirement, Brown turned to acting, appearing in more than 30 films, including "Any Given Sunday" and "The Dirty Dozen," according to the Associated Press. He also used his celebrity status to advance the cause of civil rights, including organizing elite Black athletes in 1967 to support Muhammad Ali's protest of the war in Vietnam.