Your Vote Matters: The 2022 Midterm Elections Live Blog
With several tight races taking place throughout the country, control of Congress hangs in the balance.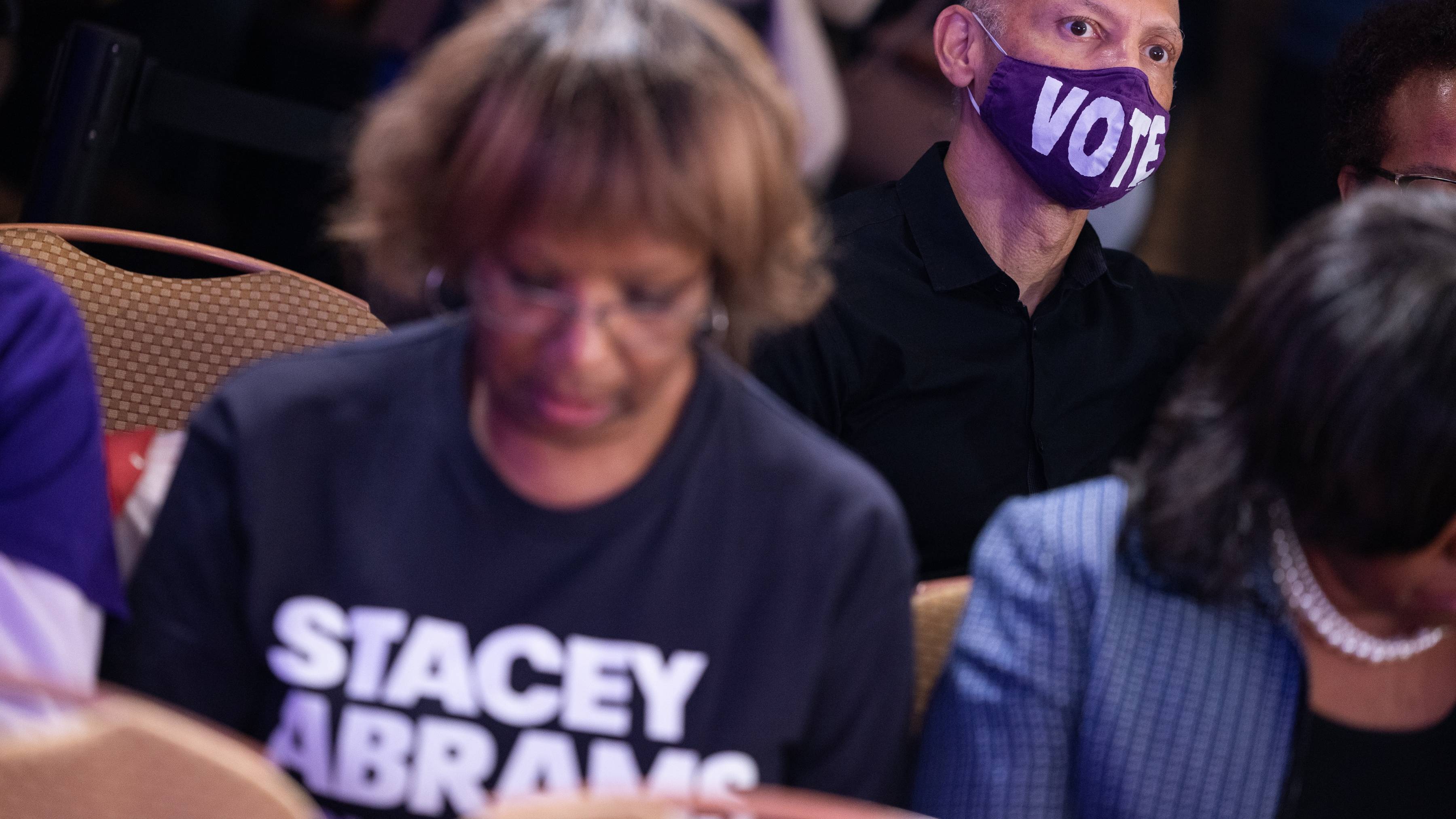 Stacey Abrams Unable To Win Rematch Against Gov. Brian Kemp in Georgia
A second attempt to take the governor's race in Georgia by former state representative and voter rights advocate Stacey Abrams failed. CBS News projected that with 88 percent of the vote in, Kemp would win reelection 53.8 percent to 45.5 percent. Abrams conceded the race. The result comes four years after a bitter contest between the two in that was so close that Abrams openly suspected voter suppression by Kemp, who was then Secretary of State was a factor. This time, however, the margin was too wide for any evidence of suppression to be apparent. This means of the five Black gubernatorial candidates only Wes Moore of Maryland has been victorious. In Iowa, Deidre DeJear has lost her bid to unseat incumbent Kim Reynolds, according to CBS News.
Flowers Loses To Incumbent Gov. Kay Ivey in Alabama; Beasley Loses To Budd
Alabama gubernatorial challenger Yolanda Flowers was unable to move voters into her column and away from well established and funded Gov. Kay Ivey. Flowers, who held the counties around Montgomery and somewhat in the Birmingham area, could not convince people in other areas around the state to support her. Meanwhile in New York, Republican Joe Pinion was soundly trounced by Chuck Schumer, who will go into his fifth term in the Senate.
Warnock-Walker Race Too Close To Call; Kemp Pulling Solidly Ahead of Abrams
The race between Democratic incumbent Sen. Raphael Warnock and challenger Herschel Walker remained in a dead heat late Tuesday (Nov. 8). With 80 percent of votes in, Warnock is just ahead of Walker 49.3 percent to 48.7. CBS News says the race is still a toss up. If neither candidate gets 50 percent or more of the vote, the race heads to a runoff on Dec. 6. Meanwhile in the governor's race, Republican Brian Kemp appears to be winning the rematch between himself and Stacey Abrams. 54.1 percent to Abrams' 45.2 percent. CBS News has not called the race, but says it is "likely Republican."
Georgia Rep. Lucy McBath Re-Elected, But To New District
Voters have selected Rep. Lucy McBath for another term, but rather than representing Georgia's 6th Congressional District, she will represent the Georgia 7th. Redistricting changed the political map of the area and in May, the Democrat defeated incumbent Carolyn Bordeaux and moved on to face Republican Mark Gonsalves. McBath got involved in politics as a gun control advocate after the 2012 shooting death of her son Jordan Davis at a Florida gas station. She ran for Congress and won in 2018.
Muriel Bowser Reelected As Mayor of Washington D.C.
Democrat Muriel Bowser defeats her Republican opponent Stacia Hall to win a third term in office. This makes Bowser the second mayor in D.C. history to hold the office for three consecutive terms. Bowser won by pushing key issues such as affordable housing, her response to the COVID-19 pandemic and economic empowerment.
Chris Jones Loses Arkansas Governor's Race To Sarah Huckabee Sanders
Democrat Chris Jones has lost his bid against Sarah Huckabee Sanders to become governor of Arkansas. Jones, a Morehouse grad, and nuclear engineer who also went to Massachusetts Institute of Technology, never gained the momentum needed against Sanders, whose father, Mike Huckabee had served as governor as well. She was also supported in the Trump camp having been his White House Press Secretary. Sanders now becomes the first woman governor of Arkansas.
Wes Moore Makes History, Projected Win For Governor in Maryland
CBS News predicts that Democratic candidate and former CEO of one of the largest anti-poverty organizations in the country, Wes Moore ,is the new governor of Maryland defeating Trump backed Republican Dan Cox. This makes Moore the first Black governor of that state. Cox, a state legislator, never even received public support from the state's current Republican governor Larry Hogan, who refused to endorse him.
Democrat Emilia Sykes wins in Ohio's 13th Congressional District
At just 36-years old, State Representative Emilia Sykes defeats her challenger former Miss Ohio USA Madison Gesiotto Gilbert with a vote of  63.2% to 36.8%. Sykes was the first Black woman under 30 to serve in the Ohio legislature and will now continue her political ambitions as a member of the United States Congress.
Charles Booker loses bid to unseat Sen. Rand Paul in Kentucky
Winning a third term in the U.S. Senate, Paul had raised more funds, $26 million to Booker's $6 million and had more name recognition. Booker had the support of people frustrated over the deaths of Black people at police hands, the most obvious example being Breonna Taylor in Louisville, but voters in Kentucky still listened to Paul's message about the economy and the national debt.
Rep. Val Demings loses Florida Senate race to Marco Rubio
Florida, once seen as a swing state, apparently becomes a solidly red state as Demings is projected to have lost her attempt to move the incumbent Rubio out of office. The former Orlando police chief had a strong showing in the debates, but was unable to move the state which had supported Donald Trump in 2020. Keeping it in the Republican column is also the projected reelection of Gov. Ron DeSantis over challenger and former Gov. Charlie Crist.
Sen. Tim Scott wins in South Carolina
In the first result of the evening, CBS News projects Republican Sen. Tim Scott has defeated Democratic state Rep. Krystle Matthews in the South Carolina senate race. Scott, the incumbent was heavily favored in the contest as Matthews, who has been in trouble since recordings surfaced of her disparaging her White constituents. 
Scott, who has been in the U.S. Senate since 2013, has been mentioned in the past as a potential GOP candidate in 2024, but has yet to announce any intention of a White House run.
Election Day is here!
Two years after the Democrats took the White House, the Senate and the House of Representatives, the United States has never seemed more divided in recent memory. Issues ranging from crime, to reproductive rights to the economy, and voter suppression and election denial have sprinted to the forefront of the American electorate. 
Hundreds of races across the country will decide the direction of the nation going into the 2024 presidential election and a public, still reeling from the coronavirus pandemic and hurting from high prices all year are seeking answers from political leadership. Polls closed on the East Coast at 7 p.m., and votes will be counted. 
For African Americans, the most watched will overwhelmingly be the Georgia gubernatorial election, in which Stacey Abrams tries for second time to defeat the incumbent Gov. Brian Kemp, who she lost to in a bitter fight in 2018. But parallel to that will be the contest between Sen. Raphael Warnock, also incumbent, and former NFL star Herschel Walker, who despite being embattled over the past few weeks is neck and neck in the polls and may face a runoff.
In California, the Los Angeles mayoral race between Rep. Karen Bass and billionaire Rick Caruso is just as heated, and given the racial controversy over the City Council scandal, the city is looking for a leader who can bring people back together, while dealing with the heavy cost of living there. Meanwhile, back on the East Coast, Rep. Val Demings is attempting to unseat Sen. Marco Rubio as Florida prepares for as Tropical Storm Nicole makes its way toward the state.
Stay with BET.com as we provide updates through the evening on this live blog while returns come in. We'll be using the latest news from CBS News as well as keeping you tuned in with the above live feed.