2022 Midterm Elections: The Black Candidates You Need To Know
From familiar faces to new kids on the block, these candidates bring a unique perspective to politics.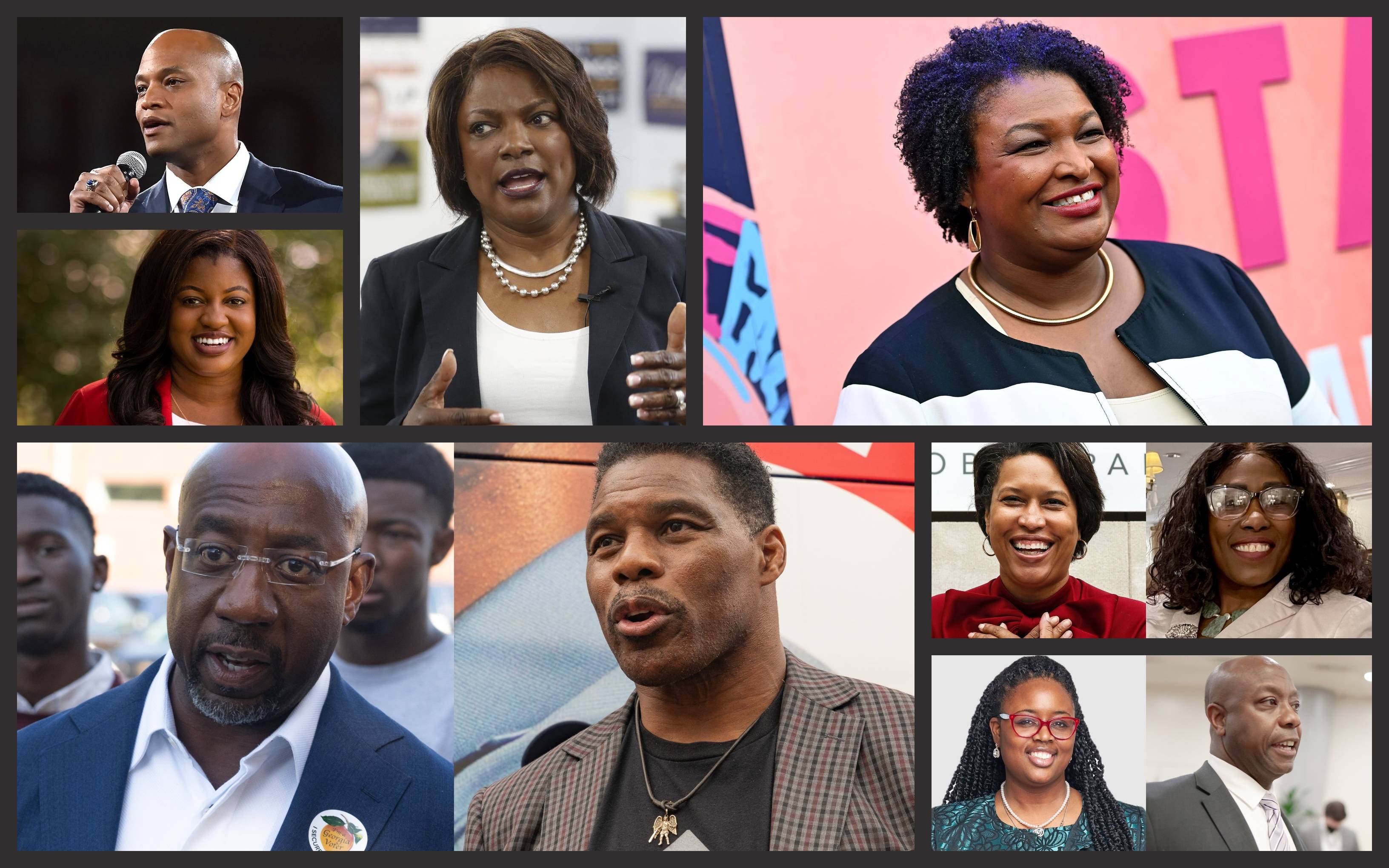 The midterm elections have arrived and with them a host of Black candidates for major gubernatorial, Senate and House races, and even two major mayoral contests.
Again, the winners of the races may determine the direction of both houses of Congress at a time when Democrats should most want to retain control – in the middle of President Joe Biden's first term.
Below is a list of the five Black candidates seeking public office, running for governor, U.S. Senate, the most competitive House and mayor's races across the country. It's a snapshot of some two dozen Black candidates running during the midterm elections, but the question remains, exactly how many will be voted into office. 
Governor

Georgia – Stacey Abrams

In her second attempt at the governor's seat, Stacey Abrams, a Democrat, is engaged in a rematch against Republican rival Gov. Brian Kemp, who narrowly defeated her in a bitter race in 2018. After that loss, ensuring voting rights became a priority for her because she felt that many Georgians were cheated out of having their ballots counted so she formed the non-profit Fair Fight. The subsequent effect was that she aided Rev. Raphael Warnock in winning the U.S. Senate seat, and helped turn Georgia blue to get the necessary votes to push Joe Biden to victory in the White House.

Now, with record breaking early voting in Georgia already days before Election day,  she still trails in the polls behind Kemp, who has a solid conservative base in the state. But she continues to push on issues like reproductive rights, voting rights, gun safety, affordable housing and police reform. 

Maryland – Wes Moore

Vying to become the state's first Black governor, Wes Moore, a Democrat, veteran and author, is leading opponent House Delegate Dan Cox in the polls by 30 percentage points, according to the Associated Press. Moore is heavily favored in a state where registered Democrats are double the number of Republicans. Cox, a far-right candidate, has never been able to crack Moore's popularity at any point in the race.

Although having never held public office before, his supporters are confident that he will be able to handle the job currently held by outgoing Gov. Larry Hogan. In fact, Hogan, a Republican, has endorsed Moore over Cox, a Trump-backed Republican. Meanwhile, Moore is enjoying the support of Vice President Kamala Harris, former president Barack Obama, Maryland Rep. Kwesi Mfume and a lengthy list of other high profile backers.

Iowa – Deidre DeJear

Mounting a brave challenge to incumbent Gov. Karen Reynolds, Deidre DeJear shares much the same platforms as her Democratic counterparts running in other states including protecting reproductive rights and supporting health care, but unique to her campaign is a platform of championing Iowa's farm country, which has largely been hit by the nation's economic downturn during the pandemic.

Although she has not held elected office before, DeJear is the first Black woman to win a major party's nomination for governor in the state. She ran unsuccessfully for Secretary of State in 2018, but played a strong role in Obama's 2008 victory in the Iowa Caucus, which put him on track for the White House. Democrats see her as their best chance to gain back the governor's seat, which they have not held since 2011. However, DeJear's work is cut out for her as she still trails in the polls behind Reynolds by as much as 17 percent.


Alabama – Yolanda Flowers

A relative newcomer to Alabama politics, Yolanda Flowers caught attention when she bested state senator Malika Sanders Fortier in the runoff for the Democratic gubernatorial nomination over the summer. But watchers say it's a long-shot for her to defeat incumbent Kay Ivey, who remains a popular Republican politician in a consistently, conservative red state.

Her platform includes what she calls on her website "reconstruction" plan for education, healthcare, criminal justice, and the economy. One remedy would be instituting a state lottery to help with inequity between wealthy and poor communities. She has said abortion should not be illegal, but would favor providing counseling for mothers so they make the best decisions. Still, Ivey is highly favored with 60 percent of votes.


Arkansas – Chris Jones

Term limits are ending Gov. Asa Hutchinson's tenure in the governor's mansion, meaning Democrat Chris Jones, a Morehouse grad and nuclear engineer with a Ph.D from the Massachusetts Institute of Technology, is making a play for the job. He faces Sarah Huckabee Sanders, who is well entrenched not only with the Republican party, but is solidly in the MAGA camp, having served as press secretary under Donald Trump.

Although Jones is a political newcomer, he is leading the Democrats' initiative to gain a better foothold in Arkansas. His formula? What he calls"PB&J" – getting preschool to each family, broadband internet access to the whole state and jobs for everyone. Plus, he's also including improved care for senior citizens, mental health resources, prescription medicine and gun safety. He does, however, have quite a hill to climb with the average Arkansas voter as he is trailing Sanders' by as much as 30 percent in the polls.

Senate

North Carolina – Cheri Beasley

Cheri Beasley is  the first Black woman to serve as Chief Justice of the North Carolina Supreme Court, and spent eleven years as a state court judge after beginning her career as a public defender. She outraised her opponent, three-term Republican Rep. Ted Budd, $34.2 million during her campaign to Budd's $12.6 million, but there is concern that the national Democratic Party has not invested strongly enough in Beasley to ensure the race in her favor.

In one of the closest Senate races in the nation, Beasley has been on the receiving end of brutal attack ads, including one removed from television in which she was falsely accused of voting to set a "child porn offender" free. She is trailing Budd in recent polls by as much as 5%. However, the polls also report a 3% margin of error, and 2% of respondents who are undecided.

Florida – Val Demings

Orlando's first female police chief with a career in law enforcement spanning 27 years, Val Demings is challenging incumbent Republican Sen. Marco Rubio to represent Floridians in the U.S. Senate.  Rubio was elected in 2010 as part of the Tea Party swell of candidates who ran, in large part, to oppose then President Barack Obama during his first term.

Demings  has made gun control a platform of her campaign. During a recent visit to a community center, she called for passage of "common sense" gun control laws and criticized incumbent Rubio for standing against them. Florida polls indicate 50% of voters will support Rubio. But with 46% of respondents promising their votes to Demings, Rubio's lead is easily contained within the poll's 4.8-percentage-point margin of error, making this another Senate race too close to call.

Arkansas – Natalie James

A real estate agent and small business owner, Natalie James, a Democrat, is hoping to thwart Republican incumbent John Boozman, who is running for his third term in office. Nationwide, the two parties are in a fierce battle for the U.S. Senate and James wants to be sure voting rights are ensured and making sure health care is affordable for everyone. Education, agriculture and climate are central to her campaign, but so is criminal justice, and infrastructure improvements. She is also pro-choice and supports a $15 minimum wage.

Alabama – Will Boyd

A Baptist minister, Will Boyd's primary plan is to create better infrastructure for the state. He has said that modernization will attract more business to the state, thus more jobs. But in a heavily Republican-voting state, he is facing a daunting task in defeating GOP nominee Katie Boyd Britt, who is a Trump supporter and has the backing of outgoing incumbent Sen. Richard Shelby. Boyd has said he is looking for high voter turnout numbers to close the gap between him and Britt.

Kentucky – Charles Booker

GOP Sen. Rand Paul has had a well-backed foothold in the state for years, but Charles Booker, a former state representative, is following the trend of other Democrats in supporting reproductive rights, and achieving healthcare for Kentuckians, but also supporting coal miners and farmers. Calling his platform "Hood to the Holler" he is seeking to bridge the gap between urban areas like his native Louisville to rural areas in the Appalachians. He is also a proponent of issues that tend to appear in the platforms of candidates in more liberal states like Universal Basic Income and reparations for slavery.


Louisiana – Gary Chambers

A native son of Baton Rouge, and a dedicated civil rights advocate, Chambers literally blazed an unconventional trail for himself by filming a campaign ad in which he smokes a marijuana blunt while quoting statistics about Black incarceration rates resulting from the drug. He says he wants to serve the people of his state by improving access to healthcare, education, housing and justice. But he faces  Republican incumbent John Kennedy, who is seeking a second term. Kennedy has raised some $36 million for his effort, which is ten times more than all of his Democratic rivals combined.

However, elections, and most other things in Louisiana, aren't conducted in the conventional manner. Under the Louisiana majority-vote system, a candidate can win the election outright by earning more than 50% of the vote in the primary, where all contenders compete against one another. If no candidate receives a majority of the vote, the top two vote-getters from the primary —regardless of their party— then move on to the general election, Dec. 10. The two will face off against at least three Democrats, five independents and a Republican on that date.

Georgia – Raphael Warnock vs. Herschel Walker

One of the most watched senate races in the nation – not only now, but in 2020 – was the Georgia junior U.S. Senate seat, won then by Raphael Warnock, and currently sought by former NFL running back and Heisman Trophy winner Herschel Walker. Much of the campaign has focused on the Republican Walker's many gaffes, family issues and accusations from women that he coerced them into getting abortions. Despite this, the two candidates are running closer in the polls than is likely comfortable for Warnock. A poll from the Hill shows the incumbent leading the challenger 49 percentage points to 47.

Even though he has been highly criticized, Walker is enjoying the support of Georgia's far right Republicans including Marjorie Taylor Green and others who seek to eventually turn the state back red.

New York – Joe Pinion

Not many Black people have received GOP nominations for senate recently – or in U.S. history. However, Joe Pinion, a former newscaster for the ultra-conservative network Newsmax is hoping he can topple Democratic Sen. Chuck Schumer, who is running for his fifth term in office. But Schumer is running in a state that has kept a Democrat in the position since 1999, and has so much support that most people know little about Pinion's campaign. But the first Black man to be nominated by either party for a senate seat in the state, wants to complete the "unfinished business of Dr. Martin Luther King," he said in a recent interview. Much of his platform focuses on replacing Schumer, who he bills as a "career politician."

South Carolina – Krystle Matthews vs. Tim Scott

Krystle Matthews has seen a steady rise in the Democratic party over the past few years, winning a state house seat in 2018 and gaining momentum in the party since that time. But she is now facing dual challenges in her political career. While running for U.S. Senate to unseat GOP incumbent Tim Scott, she is also running for reelection in her current seat against Jordan Pace, a Republican challenger. Weighing more heavily on her is a recording published by Project Veritas, a conservative group known for nefarious tactics, in which she is disparaging White constituents. Democrats urged her to suspend her campaign, but she has refused and continues to run. Meanwhile, Scott is favored in the contest and is also mentioned frequently as a potential 2024 Republican presidential candidate.

Wisconsin – Mandela Barnes

The Wisconsin race for the U.S. Senate is a heavily watched one, as which party gains control of the evenly split chamber will depend upon the outcome of Tuesday's midterm elections.  The race between Democratic lieutenant governor Mandela Barnes and incumbent Republican Sen. Ron Johnson is still too close to call with mere days until the ballots are cast and counted. According to a Marquette University Law School poll, Wisconsin voters are 48 percent in favor of Barnes, and 50 percent in favor of Johnson. The responses are within the poll's margin of error, making this race a toss-up to predict

The Milwaukee Journal Sentinel gives Barnes its endorsement, saying that Johnson, who is an election denier and spreads the disproven assertion that the 2020 presidential election is "dangerous" to American democracy. Furthermore, Johnson has intoned that he won't accept the results of the vote that happens in 2022.

House of Representatives

California, 3rd House District – Dr. Kermit Jones

A physician and former Navy flight surgeon, Dr. Kermit Jones is going up against Republican Assemblymember Kevin Kiley in one of 10 California U.S. House races that could impact the balance of power in the chamber. The district is a largely rural area that has swung back and forth over the past two decades because of redistricting. Jones vision focuses on dealing with the wildfires that have impacted the entire western U.S. and particularly farmland in the district, but also reproductive rights, healthcare, and veterans issues, all of which he has a personal connection to.

Georgia, 2nd House District – Sanford Bishop

Representing a largely rural area of Georgia that has been hit hard by inflation, Sanford Bishop, a 30-year incumbent, is facing a serious challenge from Chris West, an attorney and leader in the state's Republican party. In a debate last month, West drilled Bishop on the plight of farmers, a congressional ethics probe on campaign fund use. But the two men sparred over West's stance on abortion. Bishop, a Blue Dog, or moderate, Democrat has a healthy campaign chest and has a slight edge among voters in the majority Black district. So far in the polls, Bishop leads West 50 percent to 46 percent.


Florida, 7th House District – Karen Green

With the retirement of Rep. Stephanie Murphy from her seat, two new candidates are seeing to replace her at a time when redistricting has changed the map. That leaves Karen Green, a political strategist, having to figure out how to get more people to vote Democratic. She is up against Cory Mills, a defense consultant who is backed by Trump. Green is running on a platform of equal pay for women, getting federal aid for environmental issues and affordable housing. But the redistricting is something Green will have to overcome as the redistricting has brought more Republican voters into the 7th.


New York - Jackie Gordon

In her second attempt at the Congress seat, Lieutenant Colonel (Ret.) Jackie Gordon, a Democrat, U.S. House New York District 2, is engaged in a rematch against Republican opponent Andrew Garbarino. The two are vying for the 2nd Congressional District which includes southwestern Suffolk County and a small portion of southeastern Nassau County on the South Shore of Long Island, NY. Gordon is a veteran, an educator, a union member, and was the first Black woman on Babylon Town Council. While in college and teaching in local schools, she enlisted in the Army, serving our country for 29 years, including in Iraq and Afghanistan. In the military, it didn't matter if someone was a Democrat or a Republican, Gordon worked with anyone to accomplish the mission and says that she plans to take the same spirit to Congress. Some of the key issues at hand in the area include reproductive rights, preventing gun violence, and lowering taxes amongst others.

Ohio - Emilia Sykes

Born in Akron, Ohio, Emilia Sykes grew up on the city's west side and enjoyed a childhood that was full of competitive gymnastics and ballet. As a child, Sykes saw first-hand how Northeast Ohio families who work hard every day and care deeply about what they do are often not given the opportunity to level the playing field. When she became House Minority Leader, Sykes worked with Republicans and Democrats to deliver real results for Ohio's families, businesses, and seniors. She is running for Congress on a platform that supports job creation, affordable healthcare and education, and for bipartisan cooperation to get things done. Sykes is squaring off against Madison Gesiotto Gilbert, a Trump-backed candidate, attorney and former Miss Ohio who touts herself as a Christian and small business owner, who supports ending Roe V. Wade, fighting inflation and ending government overspending.

Connecticut, 5th House District – Jahana Hayes vs. George Logan

In seeking a second term, Jahana Hayes, the first Black woman to represent Connecticut in Congress is facing a challenge from George Logan a Republican who served two terms in the state senate. But despite the state being largely Democratic, this particular district is not a guarantee for the party. Local polls have called this race a toss-up, but some have given the edge to Hayes, who has out-raised Logan by about $1 million. The race is not looked at as once that will determine control of the House, but that it is so competitive is sending a message to both parties on how fragile the Democratic hold could be.

Nevada, 4th House District – Steven Horsford

In a district that stretches through the desert from North Las Vegas to rural central Nevada, incumbent Steven Horsford has faced a tense competition against challenger Donald Trump-backed Sam Peters. The two have engaged in a boxing match over prescription drug costs for seniors, inflation and the economy, reproductive rights, and border security, which Peters is using to flame Horsford. The American Rescue Plan and other federal support is something that he has said helped Nevadans during the toughest days of the coronavirus pandemic. He also wrote part of Congress anti-inflation legislation that saved money for seniors and people seeking health insurance on public exchanges. Going into the election he leads Peters by three percentage points.


Mayoral Races

Los Angeles – Karen Bass

With a history stretching back to days first as a social worker all the way to the House of Representatives, Karen Bass now hopes to become the first woman and first Black woman to lead the second largest U.S. city. She is facing a serious challenge from businessman Rick Caruso as they both deal with issues ranging from the economy, to rampant homelessness, to criminal justice to race. In fact, a Los Angeles city council scandal in which three members were recorded making racist statements has voters asking how will both of them bring Angelenos together. 

Washington D.C. – Muriel Bowser vs. Stacia Hall

In a rarity for big U.S. cities, the mayoral election is not really a two-way contest but a four way race. Incumbent mayor Muriel Bowser is looking to win a third term leading the nation's capital. She has solid backing in the overwhelmingly Democratic voting city. However, Stacia Hall, a Republican who touts herself as a single mom who lifted herself out of poverty, wants the job. Along with her are independent Rodney "Red" Grant and Libertarian Dennis Sobin. As in other large municipalities, Bowser is faced with dealing with homelessness, and rising crime, which she wants to address through bringing more people in the community onto the force and hiring more women. Meanwhile, Hall wants to keep businesses and schools open, seeing that their closure hurt D.C. and the nation at large.