Lil Wayne Advocates for Healthy Eating Habits; Cooks Meals on Tour Bus
The rap star pulled his tour bus over to cook because he doesn't eat fast food.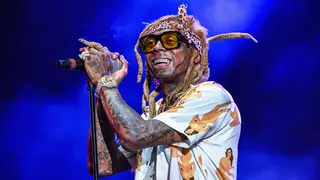 If there is one thing that's great about becoming a rap star as a teenager, it's that you can afford the finer things in life.
Rapper Lil Wayne recently shared that he hasn't eaten fast food in over 20 years and he prefers healthy meals.
"When I was 19, I moved to Miami, and my mom is a chef, and she was very happy for the move because New Orleans is crazy. One thing she really wanted me to do was get a personal chef," Wayne explained in an interview with Apple Music's Zane Lowe. "So from the age of 19 to now, I've always had a personal chef. I haven't eaten any fast food [in] forever. I don't know what McDonald's smell like."
In a new video uploaded to his Instagram, and captured by Revolt, the 40-year-old rapper appeared to step off the vehicle, and said, "We had pulled over to eat, and you know I don't eat fast food. So, we pulled over to cook… And we gotta watch the car." Wayne then showed viewers the back of a van and bags presumably filled with food, then added, "See, we pulled over, and we cooked."
He added, "So eat healthy, young men [and] young women."
Wayne is currently wrapping up his "Welcome To Tha Carter Tour." The two-month-long musical odyssey has been selling out dates across the country as he celebrates his more than 20-year rap career.
Most recently, Wayne was among those that singer/actor Teyana Taylor celebrated by giving a pair of her Air Jordan sneaker collaboration.
"I retired from music a day before my 30th bday," the former singer wrote in a lengthy Instagrram caption. "The craziest part about this particular bday & party I was dealing with a slew of emotions. I was blessed to see another year of life but also had a heavy heart with a heavy decision I just made the day before. On the walk in to my party I smelled something but I couldn't put my finger on it…. I looked up and the scent was coming from a bouquet of roses from the ? He told me he wanted to to receive my flowers while I was still here to smell them and to take all the time I needed and to come back when I was ready. I never forgot that moment."
"In return I wanted to give the ? his flowers while he is still here to smell, recieve & WEAR them. I wanted my first @jumpman23 creation to represent my journey as a rose navigating thru concrete but also an ode to all of the ROSES just like me & the ones who has inspired me thru my journey. It was my honor to ship out one of the first pairs of the 23 enchanted Roses to my big brother. Thank you @liltunechi for all that u have contributed to the culture! We love you!???"