Family Of Mississippi Boy, 11, Shot By Police Responding To Domestic Dispute Wants Justice
The family's attorney demands accountability, including attempted murder charges, for the near killing of Aderrien Murry.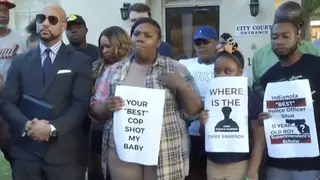 Family members and supporters of Aderrien Murry, an 11-year-old boy shot  in Mississippi by an officer responding to a domestic dispute call, planned to hold a sit-in Thursday (May 25) at Indianola City Hall to demand justice, Mississippi Today reports.
Carlos Moore, the family's attorney, said Aderrien was rushed to the hospital with a collapsed lung, fractured ribs and other serious injuries. But the Indianola police have shared practically no information with him, including the officer's name or video of the incident.
Moore, based on his own investigation, identified the officer as Greg Capers. He's now calling for Capers' termination from the police department and his prosecution on attempted murder charges. CNN confirmed with the Indianola Police Department that Capers is the officer involved in the shooting.
Aderrien's mother, Nakala Murry, said at a press conference Monday (May 22) that the police were called on Saturday (May 20) around 4 a.m. because the father of her other child came over to her house and was acting irate.
Moore told The Washington Post that Capers arrived at the scene with "his gun blazing." Nakala Murry told the officer that everyone in the house, including her daughter and 3-year-old nephew, was unarmed. The officer yelled out that anyone in the home should come out with their hands up, Moore said.
Aderrien followed the officer's directions, but Capers shot the unarmed boy in the chest, Moore and the family said. Aderrien was released from the hospital Wednesday (May 24) after being placed on a ventilator.
According to Moore, Capers has not been disciplined for tasing another of his clients in December 2022 who was handcuffed when tasered.
"We cannot continue to tolerate a system that allows police officers to use deadly force with impunity," Moore said in a statement. "We need to hold law enforcement officers to a higher standard and ensure that they are trained to de-escalate situations and use non-lethal methods whenever possible."
Meanwhile, the Indianola Board of Aldermen voted to place the officer on paid administrative leave pending further investigation by the Mississippi Bureau of Investigation.
The police department and Mississippi Bureau of Investigation have so far declined to comment directly on the case. But Indianola Police Chief Ron Sampson told the Enterprise-Journal in McComb, Miss., that the shooting was "extremely tragic, on both sides."
Still, Moore is demanding answers immediately.
"What are you waiting on? Someone to actually die?" Moore said during the press conference. "An 11-year-old almost died. By the grace of God, he is alive. The people of Indianola are not going to wait until somebody dies."