This App Makes Sure Black Creators Are Getting Paid What They Deserve
Their top users are not celebrities, they are everyday people earning $1.5-2k a month from their content.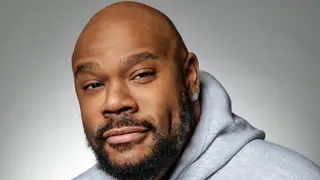 Isaac Hayes III, son of the late singer, songwriter, producer and actor Isaac Hayes, is the founder of Fanbase. This subscription-based social platform empowers creators to monetize their content and creative talents. Hayes III created Fanbase to help bridge the equity gap in social media and help Black users create wealth.
Fanbase ensures that no user's creativity is exploited, especially because Black creators face disparities across most social media platforms. It is the only social marketplace that allows monetization across the entire platform and empowers all creators to make money from their content and grow. Fanbase's top users are not celebrities, they are everyday people who make $1.5-2k a month. This new social media platform even allows users to migrate their content from apps like Instagram and Tiktok and paste it on their Fanbase page, so they don't have to manually repost it.
BET.com interviewed Hayes III, and here's what he had to share:
BET.com: What motivated you to create Fanbase, especially with your upbringing in relation to your father being Isaac Hayes?
Hayes III: It was my connection to Memphis that sparked the idea for Fanbase. A young man from Memphis went viral for dancing in a Spiderman costume at Gamestop. He reached out to ask me for my help to monetize the newfound fame he was garnering. Fanbase became the solution for any person with a talent, skill or information and can monetize it through a subscription.
BET.com: What is the purpose of Fanbase and how has it helped its creators monetize their talents?
Hayes III: A big misconception about Fanbase is that it was only created for those who identify as content creators. But we need to understand that every person on social media is a content creator. Fanbase was created for every person on the planet, whether we post once a month or one hundred times a day. We believe that if they want to, everyone should have the opportunity to monetize those assets. Fanbase allows users to have followers for free, as you would on Twitter, Instagram, or Tiktok, but also create content and audio rooms that only people who subscribe to you can access. It's a premium and optional model. You can use Fanbase like any other social media platform, and never put anything behind a paywall. However, there's a virtual currency that will still allow you to make money, and that currency is love. When someone loves a post, the creator gets half of a penny. There are no rules on how many times one person can love a post, so creators make money even if they don't try. Somewhere in the world, someone will love what you're doing and Fanbase allows users to make money, even if it's only ¢.50 a month.
Bet.com: How do Black and Brown creators shape social media and did they play a role in the creation of Fanbase?
Hayes III: Black culture is an overwhelming contributor to society. Our culture is at the forefront of what drives global innovation, especially Black American culture. But, in terms of population, the larger audience in the United States are White people. So because most social media platforms are advertisement-based, it rewards them to have their most successful and popular users be white. That way, most of their viewers, who are White, will be viewing more advertisements and spending their money.
Therefore, the Black users on platforms, especially like TikTok, are then appropriated for their content. Advertising companies want famous White creators instead of Black creators, so they can run ads and make money. Black creators are suppressed to make way for other creators, who copied them, to be more popular.
Fanbase is not advertisement-based, so we do not use this model. We deliver content to every person that follows you and do not position one individual over another. The most famous person on Fanbase will be the creator that the overwhelming audience enjoys, no matter their race, ethnicity or identity. We do not suppress users to make way for advertisement revenue.
Bet.com: Why is monetization essential to ending social media disparity?
Hayes III: I think monetization is essential for a few reasons: one is that we are heading to a point where technology will automate countless jobs. People will be out of work, but they still need opportunities to monetize and make money. Fanbase turns everyone on the planet into a business owner, no matter what you create. For the Black and Brown community, a subscription model helps boost creator visibility and wealth. There are social media users with millions of followers who don't know how to monetize their following. They don't have a clear path to monetization, because their visibility and algorithm fluctuate depending on how the app can make a profit. But, with a subscription, if 5000 people pay you $2.50 per month, that equals $12,500 a month and $150,000 a year. That is an amazing amount of money to be made from just 5000 people.
Bet.com: How will Fanbase's model grow in the future?
Hayes III: The future of Fanbase includes new functionalities that will give the platform longevity and allow us to grow in ways people might not realize yet. A new functionality we have is unlimited subscriptions. In our first version of the platform, there was a limitation that only allowed users to subscribe to 1 person, 3 people or 5 people. Now we will lift that limitation and allow people to a la carte their entertainment and spend less money. The Fanbase app is free and users can subscribe to the specific creators whose content they want to see. If that creator isn't making content they want to see, they can unsubscribe from them and return when there is content they want to see. We also have Fanbase Plus, a long-form upload that allows users to upload up to one hour's worth of content and put it behind a paywall. Creators can upload podcasts, short films, TVshows, dance videos, and more to the platform. Essentially, turning creators into their own Netflix.