Whitewashing? Tamron Hall's Exit From NBC Amid Megyn Kelly's Hire Has The National Association of Black Journalists Calling Out The Network
Hall and Al Roker's successful hour-long slot on "Today" was replaced by Kelly.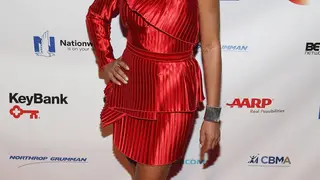 NBC is under fire after Today co-host Tamron Hall left NBC after being replaced by Megyn Kelly, who will host her and co-host Al Roker's old time slot.
Kelly left Fox News last month for the new role at NBC, but not everyone's satisfied. In a statement released on Wednesday (February 1) the National Association of Black Journalists voiced frustration over NBC's switch.
"The National Association of Black Journalists (NABJ) is saddened by Tamron Hall's departure from NBC. She broke ground as the first black female Today show cohost and was enjoying ratings success alongside Al Roker during the show's third hour of programming," the statement reads. "NBC has been a leader for diversity in broadcasting, but recent reports that Hall and Roker will be replaced by former Fox News anchor Megyn Kelly are being seen by industry professionals as whitewashing."
NBC did say it offered a new contract to Hall and insiders believed she would stay on, however she walked away from the deal. The NABJ also pointed out Kelly's history of controversial remarks against minorities.
"Kelly has a well-documented history of offensive remarks regarding people of color. On The Kelly File, her Fox News show, the host said then-First Lady Michelle Obama's commencement address at Tuskegee University pandered to a 'culture of victimization.'"
The statement concluded with a request for a meeting with NBC: "While NABJ wishes Hall well on her next move, NABJ requests a meeting with NBC leadership on the top-rated show's dismantling. We look forward to dialogue and resolve regarding black journalists and their continuing roles at NBC both in front and behind the camera."
In the wake of the controversy, NBC did release a statement and seemed open to working with the NABJ and other advocacy groups.
"NBC News has a long and proven history as an industry leader in newsroom diversity," the statement reads. "We will continue to engage in the running dialogue we've had for many years with the National Association of Black Journalists and other advocacy groups to advance those goals."