Scandal Marathon Set to Air on BET
Two 14-hour airings announced for August, plus a two-hour block on Wednesdays.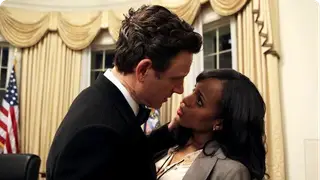 Gladiators, the summer is yours. BET will air two major marathons of the Emmy-award nominated drama Scandal in August. Scandal season one, plus the first installments of season two, will air in the first marathon block on Saturday, August 10 from 8 a.m. to 10 p.m. The second marathon will run the following week on August 17 from 8 a.m. to 10 p.m.
But there's even more Scandal headed to the TV airwaves. On Wednesday, August 21, BET will finish airing the complete second season with a two-hour, back-to-back block, which starts at 9 p.m.
After both seasons one and two have completed their airing runs, BET will rerun the first seven episodes from season one again, which will lead up to the season three premiere on October 3 on ABC.