Val Demings Only Slightly Behind Marco Rubio In Florida Election Poll
Her path to a narrow victory requires turning out Democrats and winning over undecided voters in the tight Senate race.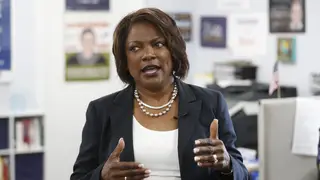 Florida Democrat Rep. Val Demings could defeat incumbent Republican Sen. Marco Rubio in their 2022 midterm election race for U.S. Senate, but it won't be easy, if a recent poll is accurate.
FloridaPolitics.com, citing a Victory Insights survey between Oct. 30 and Nov. 1, reports that Rubio could lose his bid for a third term because his lead over Demings falls within the poll's margin of error.
According to the poll, almost 50 percent of likely Florida voters planned to cast their ballot for Rubio, while Demings received under 46 percent. At the same time, nearly 5 percent of the Sunshine State's likely voters were undecided.
Demings must turn out her supporters and convince the undecideds to vote for her, the poll numbers suggested. Even so, Rubio's lead falls within the poll's 4.8 percent margin of error.
Another poll shows that Rubio has a slightly more comfortable lead over Demings, though the numbers are similar to Victory Insights' findings.
According to the WOFL poll released on Nov. 1, the incumbent led by six points, 51 percent to 45 percent, with 3 percent of voters undecided. The survey had a 4.2 percent margin of error.
With less than a week before Election Day, the Orlando congresswoman is busy rallying support for her campaign. The Tallahassee Democrat reports that she has a rally slated for Monday night at heavily-Democratic Broward County's Hollywood Arts Park.
Demings, 65, was Orlando's first Black woman police chief. She won her first elected office to represent Florida's 10th Congressional District in 2016. She was reelected in 2018 and 2020.