Reginae Carter Celebrates Her Baby Sister's 1st Birthday By Sharing An Incredibly Intimate Video Of Toya Wright Giving Birth
Reign Rushing is one year old.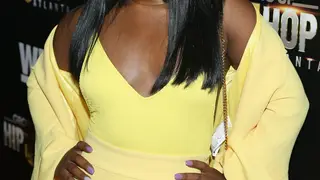 Guess who's becoming a big girl?
Today, Reign Ryan Rushing, daughter of reality star Toya Wright, is turning one, and what better way to memorialize the event than posting pics to the 'gram to more than 273,000 followers.
The little cutie with the awesome eyebrows had a dreamy photo shoot with unicorns, balloons and stars. She even had a unicorn cake that she played with while smiling from ear to ear.
Her older sister, Reginae Carter, also memorialized her special day with photos and videos of her mom the day that she went into labor.
Reginae, 20, captioned the videos, "I documented the whole day of your arrival. I was so happy that you were coming! You are my world @reign_beaux I love you so much my "ONE"DERFUL girl. Happy Birthday stinka butttttttt"
Their mother, Toya, also posted pics of the little tot having fun at Candytopia in Atlanta while playing in a room filled with marshmallows, being sprinkled with unicorn dust, and dancing with the birthday girl while walking through a rainbow hall.
Happy birthday to the "One"derful Reign Rushing and wishing her many more!