Hip Hop History Month: Meet The Top Rap Acts From The 80s
Rap music in the 80s saw the genre get more creative.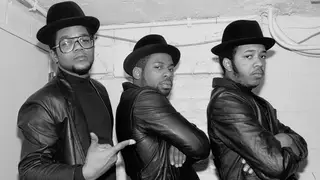 For the genre, the 80s are regarded as a new age in hip hop. With emcees from New York, including the likes of Run-D.M.C. and  LL Cool J,  leading the way, the movement ushered in an evolved sound of rap not yet quite heard in artists who had previously laid the groundwork for an art form that would ultimately be the most significant influencers across the globe. In the mid-80s, hip-hop productions became denser, and rhymes and beats were faster. These examples could be seen in acts like Eric B. & Rakim, KRS-One, Public Enemy, MC Lyte, Queen Latifah, and many more who take a more conscious approach with their newly created podium, pushing Afrocentricity and heavily experimenting with jazz and other samples.
Long Island native Rakim and bandmate Eric B. took lyricism to new heights with the release of their debut track, Paid in Full. The project cemented the two into hip-hop history, earning the status of one of the most influential and skilled emcees of all time. Meanwhile, KRS-One and Chuck D pushed new school and message rap toward black activism, which can be seen in acts today like Grammy Award-winning rapper Kendrick Lamar and seasoned female emcee Rapsody. Lastly, De La Soul and Native Tongues artists promoted positivity and learning about Black history and the African diaspora.
However, with the rise of gangsta rap music released by acts like N.W.A., 2Pac, and Snoop Dogg, and the addition of East Coast acts like Nas and The Notorious B.I.G. breaking through to a new decade, the new school/golden age rap thus ended. In honor of Hip Hop history, we're revisiting some of the genre's most influential acts of each decade. While there are many, and we mean many, to choose from, here are just a few that quickly came to mind. Check them out below.
Queen Latifah

Born Dana Elaine Owens, the rapper, singer, and actress known as Queen Latifah burst onto the scene in 1989 with the release of her debut album, All Hail the Queen, and surly fans did after hearing her critically acclaimed hit single "Ladies First."

The Newark, New Jersey native has since gone on to star in the hit sitcom Living Single in 1993. That same year, her third project Black Reign became the first album by a solo female emcee to go gold. However, Queen Latifah's role in hip-hop was more than becoming a successful entertainer. The rapper used songs like the iconic track "U.N.I.T.Y." to spread awareness of violence against women and objectification of Black female sexuality with the famous question, "who you calling a b—tch?"

Run D.M.C.

Joseph Simmons, Darryl McDaniels, and the late Jason  "Jam Master Jay" Mizell are better known as the New York City-based rap trio Run-DMC. They are regarded as one of the most influential acts in the history of hip-hop culture and one of the most famous hip-hop acts of the 1980s, alongside emcees like LL Cool J, Public Enemy, and Beastie Boys. They are credited with pioneering new school hip-hop music.

In 1984 they became the first hip-hop group to earn a Gold record with the release of their self-titled debut album,  Run-D.M.C. Their first didn't stop there. In the years that followed, they also earned the first Platinum record for the genre with King of Rock with their third album, Raising Hell, going multi-platinum.

LL Cool J

LL Cool J was one of the first hip hop artists who proved just how far a career in rap music could go.  His tough-guy persona in tracks like "I'm Bad" garnered him respect in the rap industry, but classic r&b singles like "Doin' It" and "I Need Love" showed fans he was equally parts a fighter and a lover.

After a successful career in music, the Queens, NY rapper went over to Hollywood to see what role he could gather. The journey led to appearances in several hit films, including In Too Deep, Any Given Sunday, S.W.A.T., and many more.

Salt-N-Pepa & DJ Spinderella

Cheryl James, Sandra Denton, and Deirdra Roper, better known as the hip-hop group Salt-N-Pepa & DJ Spinderella, rose to prominence thanks to their hit 1987 single "Push It," which samples Coal Kitchen's  1977 record "Push It." Their effort earned them a Grammy nomination. Their debut album Hot, Cool & Vicious,  which featured the iconic track, went platinum, marking the first time a female rap act, group or solo, to go gold or platinum. The influence spread well into the 90s, earning them the title of "The First Ladies of Rap and Hip Hop."

Eric B. & Rakim

Former disc jockeys DJ Eric B., born Eric Barrier, and MC Rakim, born William Michael Griffin Jr., formed their legendary group in 1986. They rose to fame following the release of their debut album, Paid in Full, but they would cement their status in the rap industry after releasing a single titled "Eric B. Is President."The two are arguably one of the best rap groups from the 80s, with a heavy focus on lyricism and delivery. Rolling Stone ranked them No. 5 on its list of the 20 Greatest Duos of All Time.