Sacha Baron Cohen Gives Trump HIV In New Film
Gotta love a sarcastic endorsement, too.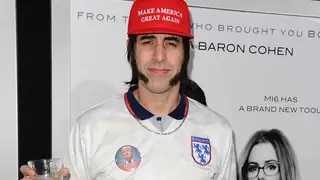 At the premiere of his new movie, The Brothers Grimsby, actor Sacha Baron Cohen committed to his Donald Trump satire, arriving in full character in Hollywood this past Thursday (March 3).
"People of America, please vote for Donald Trump and let's turn the White House into the Orange House," the actor said, during the sarcastic endorsement announcement, in character as Nobby, an English soccer player from his new film.
The movie includes a scene that is turning out to be quite the controversial one, which in turn has people wondering if the studio will back off from promoting the film given the fact that Trump is so far along in the 2016 Presidential Election.
The scene in question includes a fictionalized Daniel Radcliffe being shot (sorry, spoiler) and as a result of the chaos, Trump is infected with HIV. As reported, the test screenings that have shown the film in advance of its March 11 release have found that audiences almost universally enjoyed the scene. 
"The report of a dispute with the filmmaker [Sasha Baron Cohen] is absolutely ridiculous," a spokesperson from Sony said. "We are 100 percent supportive of the filmmaker and the film."
Cohen reportedly refused to tone down the scene about Trump, and went on to make comments at the premiere such as, "He's going to choose as his running mate that retired Black doctor who's had a bit of a drop in his popularity, Bill Cosby."
"This was a comic character making a comic endorsement," Isla Fisher, Cohen's wife and fellow actress, said of the event.