BREAKING: Kamala Harris Tests Positive For COVID-19
The vice president's diagnosis comes a month after her husband tested positive.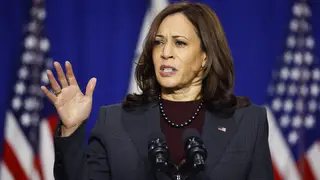 Vice President Kamala Harris has tested positive for COVID-19, her office announced on Tuesday. In a statement released by her press secretary Kirsten Allen, Harris has exhibited no symptoms and will isolate and continue working from her official residence.

"She has not been a close contact to the President or First Lady due to their respective recent travel schedules," said Stewart, also noting that Harris will return to the White House once she tests negative. President Biden and First Lady Jill Biden have never tested positive for coronavirus although others on the White House staff and the cabinet have tested positive.

According to the statement, Harris tested positive on both rapid and PCR coronavirus tests. She was first vaccinated against the virus in December 2020 with the Moderna vaccine on live television and at the time urged all Americans to receive their doses. "I trust the scientists. And it is the scientists who created and approved this vaccine," she said at the time. "So I urge everyone, when it is your turn, get vaccinated."

Harris received a second dose of the drug the next month. She received her booster dose in November, 2021 and got a second booster earlier in April 2022.
Harris' husband, Second Gentleman Doug Emhoff tested positive for COVID-19 in March after experiencing mild symptoms, He is also vaccinated and boosted. He remained in isolation for 10 days after his positive test, according to McClatchy News Service.  

The vice president's travel schedule had been rigorous over the past several days. According to statements from her office, last weekend she had been traveling through California, first to San Francisco, then to Vandenburg Air Force Base and finally to Los Angeles for various public and private appearances.

RELATED: New York City Mayor Eric Adams Tests Positive for COVID-19
RELATED: Former President Barack Obama Tests Positive For Covid-19

Although many cities and states are in various phases of lifting their mask mandates and a federal mask mandate was lifted last week for airlines, coronavirus is continuing to cause illness and death through the United States and across the globe.

According to the Centers for Disease Control and Prevention, COVID-19 cases have seen an increase over the past month with more than 44,000 new cases between March and April, and more than 1,629 hospital admissions in the same period. COVID-19 deaths have been on a downward trend, though. Numbers show 314 deaths over the past month. About 82.4 percent of the U.S. population has had at least one dose of the coronavirus vaccine.