Melania Trump Says Her Favorite TV Shows Are Empire And HTGAWM And None Of Us Saw That Coming
The shows are surprising considering her husband's treatment of women of color.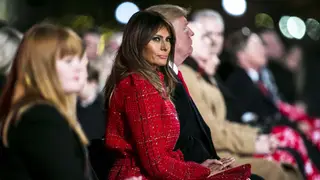 Melania Trump has revealed her current favorite TV shows and they may shock you.
The first lady recently told the New York Times that reality TV is her favorite, no surprise considering who her husband is. Surprising? The shows she did reveal as her favorites because of her husband's past behavior.

Melania says Empire and How to Get Away with Murder are among her favorites. Quickly, one could point out that the murder of American democracy is happening from within the White House and Empire reveals the scandal behind it all, but perhaps more eye-opening is that both shows have lead women of color.

The interview is also rare considering she's done only a handful since taking on her new role as first lady.

Interesting. At least Fox & Friends isn't up there.

Read the full Times interview here.