Watch!: Brandy's Daughter Sy'rai Smith Proudly Shows Off Her Weight Loss Transformation
The 19-year-old shared her journey on TikTok.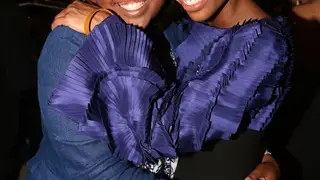 Brandy's daughter Sy'rai Smith took to TikTok to proudly show off her weight loss transformation. Below, see the video of the singer displaying her before-and-after photos. 
In the video, the 19-year-old beauty showcased a series of photos that concluded with a grand debut of her slimmed-down figure. You go, girl! 
While it is unclear how long it took to achieve her weight loss, there's no question that Sy'rai is proud of meeting her goals. "I'M BACK," she captioned the social media post, along with the hashtag #foryou.
Since January 2020, Sy'rai has been quite active on her TikTok account. Accumulating over 300K followers, the stylish influencer filled her timeline with makeup transformations, fun videos with her mom, and more. 
Below, see some of our favorite highlights from her TikTok! 
Sharing Bestie Vibes With Her Mom

Flexing Her Makeup Skills

Showing Off Mommy-Daughter Dance Moves

Getting Playful With Beauty Transformations

Showcasing Self-Love