Woman In Motion: Documentary on Star Trek Actress Nichelle Nichols Explains Her Real-Life Role With NASA
The sci-fi icon was not just legendary in front of the camera, but as an ambassador for science as well.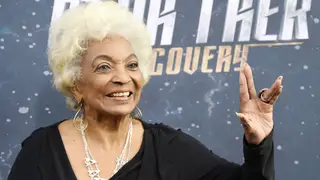 America during the 1960s was a society where all eyes were turned to the so-called final frontier of space. President John F. Kennedy envisioned putting a man on the moon and it happened by the end of the decade.The skies were not the limit, they were simply a challenge. 
As the story goes, Nichols was at an event when the civil rights icon approached her to tell her he was a fan of the show. She admitted to King that she wasn't particularly happy with her place in the cast and was planning to leave the show. But he explained that his children enjoyed her and he believed it was important that a Black woman is seen in such an essential role and urged her not to quit. Nichols continued her role on the show until it was cancelled in 1969 and reprised her role in six Star Trek films. 
As trailblazing as she was with her television role -- which included the first interracial kiss with William Shatner (Capt. James T. Kirk), the full impact of what Nichols would mean and would do for the world was yet to begin. Before long she became an ambassador for real science and the potential of space travel including with the participation of people who looked like her.
Beginning Feb. 16, the documentary Woman in Motion: Nichelle Nichols, Star Trek and the Remaking of NASA, comes to streaming services to explain how the actress changed the face of the American space program and science for good.
By 1977, NASA's star was fading. The agency was struggling to recruit new engineers and scientists to the space program, and they wound up turning to Nichols for her star power. They wanted her to tell people to come and work for the government agency.  But Nichols had her own ideas. She refused to be seen as a mascot being escorted by real scientists. Nichols knew she could help the situation, but first she wanted to know of NASA "Where are my people?" 
Todd Thompson, director of the documentary, explained that he recognized how incredible was the opportunity for him to be entrusted with telling this story. "This ultimately shows and inspires people that one person can make a difference," he told BET.com. "Yes Nichelle Nichols is an actress, a singer, a dancer, and a star, she's still one woman."
VIDEO: Zoe Saldana on "Star Trek," Race and Sexuality
Nichols said to NASA that she'd help with their recruiting, but they needed to hire more than the white men they had been putting into the program. She warned the officials bringing her on that she was serious. 
She said she spoke candidly to space program officials, telling them, "I will bring you so many qualified people you will have no choice. And if I have done my work and it's still an all white male astronaut corps, I will be your worst nightmare! And I will file a class action lawsuit against you," she said in the documentary. "I will go and speak before Congress and I will expose what I have done." 
Nichols efforts resulted in the NASA recruitment of Guion Bluford Jr. (who appears in the documentary), and Mae C. Jemison as the first Black man and Black woman to go into space, with many more African Americans following since, including Victor Glover, who is currently aboard the International Space Station.
Appearing in the documentary are Nichols' Star Trek co-stars George Takei (Hikaru Sulu), Walter Koenig (Pavel Checkov), Rod Roddenberry, son of Star Trek creator Gene Roddenberry, and also astrophysicist Neil DeGrasse Tyson, civil rights leaders Martin Luther King III and Rev. Al Sharpton, and attorney Benjamin Crump who serves as an executive producer on the project along with filmmaker Greg Galloway.
Thanks to the recruitment efforts of the company she formed for this purpose, Woman In Motion Inc., NASA hired more than 8,000 African American, Asian-American, and Latino-American women and men and in the process gained a deeper understanding that diversity isn't just a buzzword. Current NASA data lists Black people as 12 percent of its workforce, Asian-Americans 8 percent, and 7 percent Latino-American.
"Nichelle Nichols was not only a trailblazer in Hollywood, she was a trailblazer for our society," Crump told BET.com. "Her fight for diversity and inclusion through her work with NASA paved the way for women like Vice President Kamala Harris, a woman of color who is now also the Chairperson of the National Space Council.
"Nichelle helped create a world in which young girls like my daughter can dream of being an astronaut," he continued. "And that dream can one day come true. She was light years ahead of her time."