Spike Lee's Comments on Black Lives Matter Might Piss You Off
He says we "can't ignore that we are killing ourselves, too."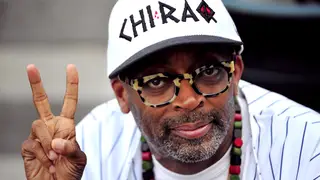 Spike Lee isn't afraid to make people angry with his opinionated points of view, and he doesn't disappoint when it comes to sharing his views on Black Lives Matter. The director, whose controversial film Chi-Raq hits theaters on December 4, tells CNN's Anderson Cooper that he supports the movement, but that attention should also be paid to Black-on-Black crime.
"We cannot be out there" protesting police violence "and then when it comes to young brothers killing themselves, then mum's the word. No one's saying nothing? It's got to be both ends," Lee said, adding that he's "all for Black Lives Matter," but "we as a people can't be blind" to Black-on-Black crime.
Lee said Black Lives Matter should focus on police brutality, "but you can't ignore that we are killing ourselves, too. We can't ignore that."
Unsurprisingly, conservative blogs are picking up on Lee's comments and using them to tout their own agendas, which will anger many who support the #BLM movement, but seeing that Spike has been immersed in the world of Chicago gun violence for at least the past year, his views are not that surprising. 
This past weekend, Lee was honored for his contributions to Hollywood by the Academy Awards with an honorary Oscar. The statue was given to him by Denzel Washington, Wesley Snipes and his dear friend Samuel L. Jackson. Watch the pair remix Jay Z and Kanye West's "N****s in Paris" at the 2012 BET Awards below:

BET.com is your No. 1 source for Black celebrity news, photos, exclusive videos and all the latest in the world of hip hop and R&B music. 
(Photo: David Banks/Getty Images)