Cardi B Gets A Face Tattoo—See The Rapper's Fresh New Ink!
Here's what we know so far.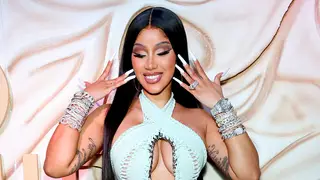 Cardi B has a face tattoo!
On Sunday (August 14), tattoo artist Robinson De Los Santos posted a video showing the rapper getting new ink. Keep scrolling to see the moment that's going viral on social media!
At this time, it is unclear what the new ink reads. However, it appears that the star's new tattoo is bright red and located on her jawline.
After the tattoo session, Robinson snapped this candid photo with Cardi. In the image posted on the tattoo artist's Instagram, Cardi flashed a bright white smile while giving fans a peek at her new ink.
As you may know, Cardi has always been proud of her many tattoos.
According to PopSugar, the entertainer's tattoo collection consists of around 11 designs (that we all know of).
Some of her most notable designs include inked tributes to her husband Offset and sister Hennessy Carolina. Others include her iconic peacock tattoo, which spans from her right hip all the way down to her knee, and her eye-catching flower tattoo on her back that took tattoo artist Jamie Schene "60+ hours" to complete.