Rep. Elijah Cummings Defends Baltimore Protesters
Maryland congressman places blame for violence on out-of-towners.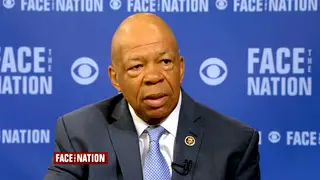 Two days before the funeral services for Freddie Gray, the 25-year-old man who died from a spinal cord injury that happened while in police custody, protests in Baltimore took a violent turn with 32 adults and four juveniles arrested and six officers injured.
The Maryland Democrat said that the citizens of Baltimore protested peacefully and blamed most of the discord on out-of-towners.
"Well, I got to give it to the citizens of Baltimore. I was there all day and it was very peaceful all day, thousands of people. And then at the end there were a few people who said, we're going to turn this city down, we're going to close it down," he said. "And the next thing you know, we had a few people, mainly from out of town to come and to start beating up on police cars and throwing all kinds of projectiles. But the fact is that for the most part, it was — it could have been — been worse."
The Maryland congressional delegation has asked the Department of Justice to conduct an investigation of Baltimore's police department, which Cummings said he hopes will happen as soon as possible.
"This whole police community relations situation is the civil rights cause for this generation," he said. "No doubt about it."
BET Politics - Your source for the latest news, photos and videos illuminating key issues and personalities in African-American political life, plus commentary from some of our liveliest voices. Click here to subscribe to our newsletter.