OG Parker's 'Still Work' Is A Testament To His Patience And Execution Which Are About To Pay Off In A Big Way
The Atlanta producer discusses his new single, debut album and fondest memories of Takeoff.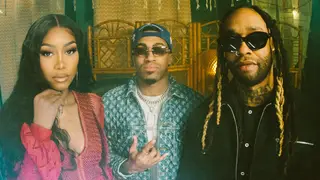 OG Parker has been a powerhouse in hip-hop and r&b production in Atlanta for a minute.
The Fayetteville, Georgia native has provided his city and beyond some of its most memorable hits over nearly the past decade, creating the instrumentals for songs like Migos' "Slippery (feat. Gucci Mane)" Megan Thee Stallion's "Thot S**t", and PARTYNEXTDOOR's "Loyal (feat. Drake)," among many other highly-charting hits. Being a student of music at a young age by learning to play the piano from his grandfather who taught music at Morehouse College, he's applied that experience to the studio boards.
Parker is also a first-hand witness to the rise of Quality Control Music, one of hip-hop's biggest labels, touting artists like the Migos, City Girls, Lil Yachty, Lil Baby and more. Just a couple years after it was co-founded by Kevin "Coach K" Lee and Pierre "Pee" Thomas, the producer inked a deal with the imprint and provided Quavo, Takeoff and Offset some of their earliest group production.
BET recently spoke with OG Parker as he discussed his new single, forthcoming album, which he says will feature all different genres of music – including hip-hop and r&b, but also afrobeat, drill and even edm, come-up, and fondest memories of Takeoff, who tragically passed away last November.
BET: You've got a new single out now with "Still Work" featuring Muni Long and Ty Dolla Sign. How did that come together?
OG Parker: So yeah, actually, that was a song that my boy Chrishan, shout out to him and Hitmaka, they work together a lot. So it was a song that they did with Ty Dolla Sign on my beat and he called me one day and was like, 'Bro, I think this could be crazy for your single.' So I listened to it a couple times and I was like, Man, I really liked the song. I feel like it fits my album because it's kind of R&B themed. I just kind of just ran with it.
BET: It's off your album Moments, which has been in the works for a while. Tell me about that a little bit and making it…
OG Parker: So basically it's a collection of a lot of songs. Some of these songs are even a year or two old. It's been songs I've been trying to just form together and put together this album. The name Moments – I feel like a lot of times a song connects to a moment in your life. When you think of a song, you think like, 'Oh, this is when so-and-so was going on. I just felt like it was the perfect name because I want to make sure that these songs become a moment in everybody's life.
BET: Any spilling on collaborations or different things you did with it?
OG Parker: Yeah, I feel like every song comes together in different ways. Like with "Rain Down," that was a song I did with [Chrishan] and then I just sent it to Latto and she got on it. A lot of this stuff is just so random. "No Fuss" was actually supposed to be on [PARTYNEXTDOOR's] album Partymobile, and it didn't make the album. Then I called him and I was like, Bro, let me have that for my single. So it's kind of just like you gotta put it together how it comes.
BET: Producer projects are becoming more and more prevalent. We just had Metro Boomin's drop not too long ago… What are your thoughts on albums like the one you're about to put out gaining more steam in a mainstream way?
OG Parker: Yeah, I really think it's coming into the forefront – like just seeing the success of Metro's album. That's inspiring to me because I'm like, okay, you see a producer that didn't say one word on the album. DJ Khaled was always dropping an album and stuff, but I think like in terms of the formal producers, the people that are making the beats dropping albums, it's actually becoming a thing, and that's why I'm really excited about dropping my album.
BET: You were signed to Quality Control technically through your work with OG Maco back in the day. Can you take us back to then and that happening?
OG Parker: So basically I was working with OG Maco. I met him through a friend at Georgia State because I went to Georgia State for like two years. Then we started working and then one day – we had a group text – and he was like, 'Yo, [Coach K] and [Pierre] want to sign me to QC.' So he ended up signing over there and they had just built their studio like two weeks before that. So I started coming up there, and I didn't have a car, so I would just sleep there. I didn't have no way to get home. So eventually, the Migos would pull up, Rich The Kid and everybody and I just kept giving everybody beats. Then one day P and Coach K was like, 'How would you feel about signing to us?' So it was kind of like history from there.
BET: As someone that's been there for a while and seen the growth Pierre and Coach K have made since then to now basically being the label you want to be on if you're coming up, particularly in the south?
OG Parker: It's amazing, especially just seeing them selling their catalog for $300 million. I remember at the very beginning, it was just the Migos and OG Maco, and they had just started building with Lil Yachty and then City Girls. I just saw the process and I think it's really inspiring, just seeing two businessmen really believe in their artists before they blow because a lot of the artists, they didn't have any motion before. Now you just be like. 'Oh, it's Lil Yachty.' Well, I remember when Lil Yachty was there, he had no money. He was just sitting there recording every day.
BET: What's been your most memorable or life-changing record to date?
OG Parker: I would probably say 'Walk It Like I Talk It' because I was in the studio with Quavo, and he was like, 'I'm about to make you a millionaire.' And I was like, why you say that? He was like, 'You got to see.' They didn't tell me, they just like surprised me with it.
BET: Speaking of Migos, you knew Takeoff very well. What were your best memories from your interactions with him?
OG Parker: Man, he's just like a nice guy. I actually have a video on YouTube of when I signed to QC, and he does an interview and says how we have good chemistry because a lot of the time I was just sending him beats and he was starting off a lot of the songs. We also have a lot of songs out on their mixtapes that are just me and him. So he always was a really nice guy, soft-spoken. It's just sad and it's hard for me to even talk about it.