BET Awards 2022: Did Latto Manifest Her Dreams of Working With Mariah Carey?
During the BET Hip Hop Awards 2021, the award-winning rapper mentioned wanting to work with Mariah Carey.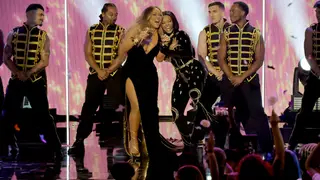 Latto can now add 'award-winning rapper' to her resume, after winning "Best New Artist" at the BET Awards 2022. The show, which took place live from Los Angeles on Sunday, June 26, also included a surprise guest during the Atlanta rapper's performance.
During Latto's performance of "Big Energy" the queen herself, Mariah Carey, made an entrance only Mariah Carey could make. Latto's remix of "Big Energy" includes a sample of Tom Tom Club's "Genius of Love," which also appeared on Mariah's "Fantasy". The crowd and we're sure viewers at home were left mesmerized. Especially since we all know, Mariah doesn't leave the house for just any ole'body.
But what most people don't know, is that Latto pretty much manifested this moment a while ago. During last year's BET Hip Hop Awards red carpet, Latto spoke to BET about sampling the song (fast forward to the :51 mark).
"I love Mariah, I've always had all her albums growing up. Being lighter toned, with blonde hair, people used to always tell me I looked like Mariah...but I would definitely be open to collaborating with Mariah, like real childhood inspiration," the rapper said.
Well, from the looks of it, her dreams came true!