Chuck D's Comments About R. Kelly Verdict Sparks Controversy
The singer was found guilty during his New York trial.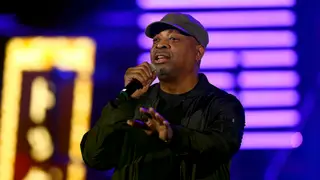 A day after R. Kelly was convicted on all counts in his racketeering and sex trafficking case, Chuck D is speaking out about the potential prison time the R&B singer could face following formal sentencing.
Taking to his Twitter account, the Public Enemy member compared Kelly's case to those of Ike Turner, who was convicted on drug offenses, and Rick James, who was imprisoned after a kidnapping and torture conviction. Each served 18 months and three years, respectfully.
"Abused in his youth… an addict as a adult… Ike Turner served 18 months in prison.. Rick James did similar time. Ike came out a changed positive human being," tweeted Chuck. "How long should R Kelly spend in prison -and does a USA system give a man a chance for a man to change his world around?"
He added: "Its not a sympathetic question at all . Not the least."
In another tweet, the rapper said the radio industry "perpetuated" much of the blurred lines between adult activities and what children should be involved in.
"Mixing grown folk lifestyle with black youth was so endorsed financed perpetuated as so urban cool by radio," he wrote. "Black audiences were abused while 25yrs poppin champagne in the sandbox. The boundaries were sloppy w head nods. That dude & others gave clues that the gatekeepers ignored."
Many are reacting to Chuck D's comments about R. Kelly, including Jamele Hill, who said it's the singer's victims that need empathy, not Kelly.
Others replied as well. See what they had to say below.