Mother Turns In Teen Son After Seeing Him On TV As A Carjacking Suspect Sparking Debate On Loyalty
Many believe the mom made a tough and right decision while others say she shouldn't have snitched.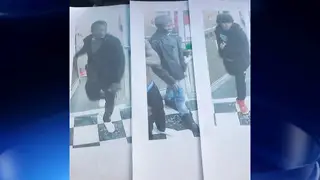 A teenage boy in Georgia was arrested in connection with a carjacking that resulted in the death of a 24-year-old father. The suspect was turned in to authorities after his mother recognized him on the news and called police.
East Point Detective Ebony Johnson said the unnamed 15-year-old male surrendered just 24 hours after Channel 2 Action News played a surveillance video of three suspects accused of the carjacking.
Police say two men were in a car at an apartment complex when three men approached the car with guns. Terrick Matthews, 24, was asleep in the passenger seat when the suspects approached the car. Although Matthews woke up and tried to comply with the suspects, one of the men shot him in the neck. He later died from his injuries. The car's owner survived.
"It wasn't necessary for them to take his life," Johnson said. "They were in compliance. They were getting out of the vehicle at that point."
The suspects then drove to a nearby gas station where they filled a soda bottle with gasoline. Afterward, they drove to a parking lot and torched the car. The three suspects were caught on the Exxon's surveillance cameras. All three suspects will face murder charges, police said.
Police told the local news station that the teen's own mother escorted him to the East Point Police department Saturday morning. Police have a warrant for a 2nd suspect, Ronald White. They are still searching for White and a third suspect they haven't identified yet.
Once the story was posted to The Shade Room, an intense debate started about whether or not the mom made the right decision.
"As a mother we suppose to protect our child under any circumstance. 'All I know my son could have a twin,'" wrote @rip_chickhg8 on Instagram.
"I would never…yall gonna have to come find me and my son," commented @mademoiselle3C/
While there was a great deal of people who said they wouldn't turn him in, the majority of people agreed she made the right decision, although it was difficult.
"He killed an innocent person!!! I'd turn my child in without question! I would be devastated but he should have thought about his actions prior," wrote @uenvynik.
"It's a very hard lesson, but if you do the crime you got to do the time. Especially as a parent if you feel like you have done everything possible to guide your child in the right direction. And think about it like this if it was your child that got killed and you were looking for the police to find out who did it, and the parents on them and you would be Grateful. Because that gives you some closure," commented @y_datcher.