The Incomparable Jenifer Lewis to Receive a Hollywood Walk of Fame Star
Fans of the screen legend and acclaimed author can watch it all happen on July 15.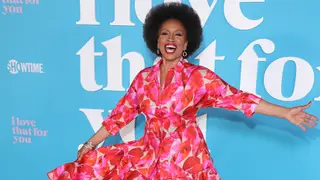 The incomparable Jenifer Lewis will receive a star on the Hollywood Walk of Fame on July 15.

A force on stage, screen, and sound, Lewis will be honored with the 2,726th star, in an event that will take place at 6284 Hollywood Boulevard and streamed live exclusively at WalkOfFame.com.

Lewis' star will be for television.

"Jenifer Lewis is considered a national treasure and a force to be reckoned with," said Ana Martinez, producer of the Hollywood Walk of Fame. "She is one of those performers who always keeps the audience on their toes! I placed Jenifer's star next to one of her all-time favorite actresses, the legendary Katharine Hepburn. Those ladies are two peas in a pod, as both delved in Human Rights activities and are known to be as feisty as all get out!"
RELATED: Jenifer Lewis Urges Congress To Investigate Kendrick Johnson's Death

Lewis got her start in the church choir at the age of five, eventually moving to New York City where she made her debut on Broadway in a small role in Eubie, the musical based on the work of Eubie Blake. With TV appearances alongside Bette Midler, who she provided backup vocals for, Lewis would reign throughout the Big Apple developing her nightclub act, The Dive Is Dismissed, and becoming a darling on the theatre scene.

Most people would recognize her as grandmother Ruby Johnson on ABC's Black-ish, where she stayed in the role for eight seasons. With more than 400 appearances in episodic television, 68 movies, 40 animations, and four Broadway shows — this immeasurable talent has been a staple in Black households from The Fresh Prince of Bel-Air to Think Like a Man to Hairspray and only promises to keep going for more.
RELATED: Jenifer Lewis Exposes Her Ex-Lover in an Explosive Facebook Post

Currently, Lewis stars in the new hit Showtime series, I Love That For You, and her autobiography, The Mother of Black Hollywood, became a chart-topping national best-seller in 2017.

Her follow-up book, Walking in My Joy: In These Streets, is set for release next month on Aug. 30.

Earlier this year in April, the International Press Academy presented her with the 2022 Honorary Satellite Award for her career contributions to the entertainment industry and her various charitable endeavors.

Her induction onto the Hollywood Walk of Fame will be hosted by Lupita Sanchez Cornejo, who will be joined by six-time Emmy Award winner and 2020 Kennedy Center honoree Debbie Allen, and Tony and Grammy Award-winner, Marc Shaiman.