Viral Video Shows Baytown Texas Police Officer Fatally Shoot Black Woman Who Repeatedly Says 'I'm Pregnant'
Neighbors of the woman claim she may have suffered from mental health issues.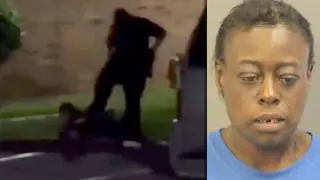 A cellphone captured the moment a Baytown, Texas, police officer fatally shot a woman outside an apartment complex after she repeatedly yelled, "I'm pregnant."
The incident occurred the evening of May 13 and the video went viral overnight, reported KHOU-TV.
In a press conference, Baytown Police Lt. Steve Dorris said an unnamed officer on patrol saw a 44-year-old woman who he knew had outstanding warrants.
The officer approached the woman and she resisted arrest, Dorris said.
A struggle between the two ensued and the officer pulled out his Taser to control the woman. This is when, according to Dorris, the woman allegedly grabbed the officer's Taser and used it on him.
The woman's actions "forced the officer to draw his duty weapon and fire multiple rounds at the suspect, who was struck at least one time," Dorris told KHOU.
After the shooting, the officer tried to administer medical help, but it was too late. The woman was pronounced dead at the scene.

Baytown police say the Harris County District Attorney's Office is assisting in the investigation.

Dorris said a preliminary investigation found it was necessary for the officer to use deadly force.

"If somebody takes your Taser away from you and starts tasing you, there's a very good likelihood that this is going to escalate and get very bad for the officer from there," Dorris told reporters.

In a Snapchat video of the incident, the woman told the officer she was pregnant; however, police have not been able to confirm with the woman's family if that was true. Her family did confirm to KPRC-TV  she had two children, both in their 20s.

Witnesses who live in the neighborhood said they frequently saw the woman walking her dog in the area. Some of the witnesses say the woman may have had mental issues.

"Sometimes you would see her, you know, get into it with people around the apartments, but nothing too, you know, bad," witness Raquel Cuellar told CBS News. "It's just, you know, just typical her. She's not a bad person. She didn't hurt nobody."

The name of the officer hasn't been released. Dorris said the officer is an 11-year veteran of the force.

"This is the first shooting the officer has been involved in," Dorris said, adding that he wasn't seriously hurt.

Dorris said he believes the officer was wearing a body cam, but the video will not immediately be released as the investigation continues. Dorris also said the officer has been placed on administrative leave.

News of the shooting of someone who possibly suffered from mental health issues angered activists on social media.