Maino Cleared in Porn Star Assault Case
Charges dropped after video shows the alleged victim lied about being attacked by Brooklyn rapper.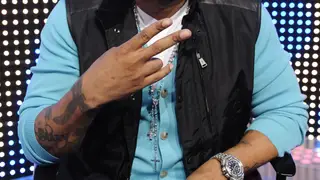 The porn star who accused Maino of assault last October made the whole thing up and the Brooklyn rapper has been cleared of criminal charges, HipHopWired reports. Alleged victim Mellanie Monroe's story of being punched and kicked by Maino was debunked thanks to video footage from their encounter. 
A cellphone recording proved that Monroe, whose birth name is Kelly Hennigan, was never actually assaulted by Maino in an SUV, as she claimed. She was in the vehicle (reportedly uninvited) and sprayed with champagne, however, after spewing racial epithets at Richard Halt, one of Maino's associates.
Monroe also tried to swing on Holt. She was removed from the vehicle by police.
Blanch Law Firm, which is representing Maino, reviewed the footage while investigating Monroe's claims. "As a female attorney, I find it completely offensive to actual victims of domestic violence and assault that Ms. Hennigan (aka Mellanie Monroe) would make these allegations against our client knowing that they were not true," said Blanch attorney Nicole Manini. "False allegations of abuse and assault diminish the severity of such crimes real victims face and increase the fear that they will not be believed should they come forward against their assailants."
Although Maino turned himself in, he maintained innocence, writing on Instagram that he was okay with being "mocked, hated and misunderstood to be great."
Monroe's motivation for making up the story has not yet been explained. 
BET.com is your No. 1 source for Black celebrity news, photos, exclusive videos and all the latest in the world of hip hop and R&B music.
(Photo: John Ricard / BET)