Earth Day 2023: 4 Black-Owned Companies Making A Difference In The Environmental Space
The news seems dire when it comes to the environment, but there are Black companies that are creating solutions for the community.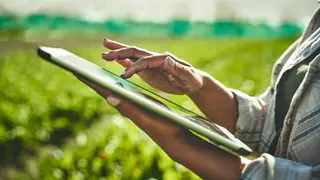 As Earth Day 2023 arrives on April 23, issues concerning the environment are becoming increasingly crucial, and seemingly every day there is news about how much worse climate change is becoming. However, there is an entire sector of the economy that has committed itself to solving the multiple problems through better use of energy, sustainable products and encouraging better use of resources.  There are also Black-owned companies that are emerging as part of the sector and are creating a space for themselves in the green economy. Here are four that you should know about.
Goodr

Jasmine Crowe had spent years helping to feed people in Atlanta who were experiencing food insecurity, but realized that there was so much surplus food in the environment that could go to waste, a model could be used not unlike food delivery services to get food to the hungry in the area. So she started Goodr in 2017 to do just that. Now, according to its website, it's a "waste management and hunger relief company, which has helped to feed millions and redirected millions of pounds of waste from landfills."

The company encourages people to make a tax-deductible donation of their edible and inedible food waste to be repurposed and its technology allows real-time tracking for donors to see the good they are doing. It also works with organic waste haulers to reduce the amount going to landfills and helps companies plan better waste management.

In this TED talk, Crowe explains what largely lies behind hunger in America: What we're getting wrong in the fight to end hunger.

BlocPower

According to the Environmental Protection Agency, the energy sector is the largest emitter of greenhouse gases into the atmosphere. But BlocPower wants to help people find efficient solutions to this problem by helping homes and buildings plan to be more efficient, thus releasing less CO2, which will reduce global warming.

In 2014, Brooklyn native Donnel Baird (pictured above) started the company, which aims at making buildings in cities greener by using electricity instead of fossil fuels. Now the company offers a range of services to make this happen from showing people how they can upgrade their homes to become greener and more efficient, to partnering with utilities and municipalities to do the same for giving people incentives for entire electrification projects. In 2022, BlocPower won contracts for large-scale electrification projects in California, Colorado, Illinois, Wisconsin and New York and has done training for thousands in the green economy. It was also named one of TIME Magazine's 100 Most Influential Companies.

Dunamis Charge

Global electric vehicle sales surpassed 10 million in 2022, according to the World Economic Forum, a 55 percent jump over 2021, which means the demand for EVs is only increasing. In 2020, Natalie King (above right), a Detroit entrepreneur who founded Dunamis Clean Energy Partners, which specializes in green energy solutions, launched Dunamis Charge to respond to the demand for EV chargers, the first Black woman to do so.

Now, King is focused on having her American-made chargers create an impact in the national and international EV marketplace, and was mentioned in a White House Fact Sheet on the Biden Administration's support for small and women business owners. According to Forbes, Dunamis produces three different types of chargers: a direct current charger that can charge a car in 30 minutes; a mountable model for garages that charges cars in four to six hours; and a commercial model for parking structures. The company began production in a facility on Detroit's east side last year.

Energy Electives

The costs of climate change and global warming have become very evident in the African American community, which has many spaces where energy efficiency is low. So Nashville native Jason Carney (above) decided to channel his energy into solving that problem.

Soon after finishing his studies at Tennessee State University, he saw that solar energy was almost foreign to Black neighborhoods and began to commit himself to the concept of renewable energy for his community. In 2010, he founded Energy Electives to bring better access to solar energy for homes, but didn't immediately get certified as a solar installer. But he didn't have much success for three years. That's when, while studying for his master's degree he and a group of students of color built a 13.2-kilowatt system at a local high school, enough to power a home.

He found that there were no Black people employed in solar energy in Tennessee and decided to forge a path for African Americans in the field. Today, Energy Electives not only helps to install solar panels in homes, but also engages and educates the community on the benefits of creating energy efficiency for itself through solar arrays, or panels that collect sunlight and turns it into energy, and introducing the concept to people who did not think it was for them.