Larry Wilmore Is 'a Little Jealous' of LGBT Movement's Success
Nightly Show host talks the state of gay marriage.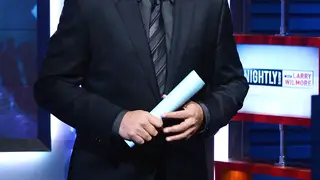 Last night's Nightly Show took a deep dive into the state of same-sex marriage, with host Larry Wilmore admitting he's "a little jealous" of the movement's success as compared to African-American civil rights. "Man, I am really happy for you gay people, but I gotta say it's a little fast!" he said. "I'm not hating, but maybe just a little jealous."
SEE PHOTOS OF THE BEST LGBT MOMENTS OF 2014
He continued, saying, "Because Black people spent hundreds of years fighting for every single civil right," before flashing images of "Hands Up, Don't Shoot" protests that followed the police killings of Michael Brown, Eric Garner and Tamir Rice.
Wilmore declared the cause "pretty much done" and crossed the issue off his list of "Stuff to Worry About."
He then invited panelists Lance Bass, Jessica Kirson, Sally Kohn and Michael Faulkner to weigh in on the state of same-sex marriage, asking them a series of probing questions, such as asking NFL player turned Republican congressional candidate Faulkner, "If there was irrefutable proof that Jesus was gay, would you support gay marriage?"
See if Wilmore's panel manages to #KeepIt100 in the video below!

BET.com is your #1 source for Black celebrity news, photos, exclusive videos and all the latest in the world of hip hop and R&B music.
Click here to subscribe to our newsletter.
(Photo: Stephen Lovekin/Getty Images for Comedy Central)