Hate Crimes Expected To Rise As 2024 Election Cycle Nears, Study Says
Black Ameriicans are most victimized by hate crimes according to the report.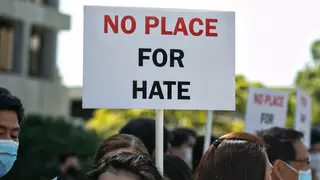 As America becomes even more polarized on the political landscape, hate crimes have been steadily increasing during presidential election cycles and trend is expected to continue, USA Today reports.
According to a study conducted by the Leadership Conference Education Fund, a national civil rights group, hate crimes have been going up since the 2008 election when Barack Obama became the nation's first Black president. At an alarming rate, hate crimes have increased by more than 80% since 2015 marked by Donald Trump's presidential campaign. Also, the study showed that 2021 had the highest number of hate crimes that were reported since 1991 when the FBI began publishing the statistics.
"What it shows is an extremely disturbing and sadly not so surprising trend," said Maya Wiley, CEO OF THE Leadership Conference Education Fund.
"One of the great purposes of this report is to signal an early warning about what we can see and what we can predict," said Michael Lieberman, senior policy counsel at the Southern Poverty Law Center also worked on the report.
"Knowing how the election cycles have brought out hate and normalized hate in the past, and what that had meant in terms of actual violence being directed against people on the basis of personal characteristics, we need to make sure that we are doing everything we can as a government, as community-based organizations, to make sure that we are prepared for the 2024 election cycle," Lieberman added.
The report also confirmed that African Ameriicans still face the greatest threats to hate crimes and the FBI  stated that violence from white supremacists is"as the greatest domestic threat to the United States."
Religious groups such as Jews and Muslims, and members of the LGBTQ community are also prime targets of hate crimes.
Wiley believes that if drastic changes are not made, the numbers will continue to rise in next year's hotly-contested presidential election.
"We should assume that unless we're acting now, that we're going to see another increase in hate crimes in the 2024 election cycle," she argued.
To curb the troubling trend of increasing hate crimes throughout the country, open discussion about experiences of racism, homophobia, and all other aspects discrimination should be encouraged and not suppressed.
"We do see a difference when leaders speak out, we do see a difference when we support communities coming together and getting to know each other," Wiley said. "We can do that in advance of the election cycle so that we can try to change this devastating, historic trend."
According to the  Justice Department, a hate crime is defined as an act violence motivated by prejudice on the basis of ethnicity, gender identity, disability,  religion, sexual orientation, or similar grounds.