Four Men Arrested In Florida For Alleged Involvement In Haiti President Assassination, 11 Indicted
The plot to kill President Jovenel Moïse was hatched in South Florida, prosecutors say.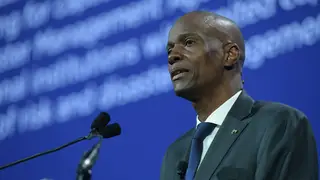 The four men are Arcangel Pretel Ortiz, 50; Antonio Intriago 59; Walter Veintemilla, 54; and Frederick Bergmann, 64. Three of them are U.S. citizens and one, Ortiz, is a Colombian national and U.S. permanent resident of Miami, Department of Justice officials said.
After the arrests, a South Florida grand jury indicted 11 alleged co-conspirators in the plot to kill Moïse, including the four men arrested Tuesday.
"The court documents unsealed today outline an alleged plan by the defendants, some of whom were operating within the United States, to remove President Moïse from office by either killing or kidnapping him in order to replace him with a candidate who would serve their political goals and financial interests," Attorney General Merrick B. Garland said.
Prosecutors allege that several of the co-conspirators met in South Florida in April 2021 and agreed to a plan that involved Ortiz and Intriago supporting the removal of Moïse and replacing him with Christian Emmanuel Sanon to obtain lucrative contracts with the Haitian government.
The plot involved Ortiz and Intriago supporting the plot through their South Florida company named Counter Terrorist Unit Security (CTU), according to prosecutors. Sanon, once he became president, would award contracts to CTU for infrastructure projects in Haiti, providing security forces, and the provision of military equipment to the Haitian government.
According to prosecutors, Veintemilla was involved in the plot through his South Florida company named Worldwide Capital Lending Group (Worldwide). It's alleged that Veintemilla agreed to finance the overthrow of Moïse by extending a $175,000 line of credit to CTU and sending money to co-conspirators in Haiti to purchase ammunition.
Bergmann, who had personal ties to Sanon, is accused of financially investing in the scheme, the prosecutors said. He also allegedly helped Sanon and Intriago to falsify export documents for 20 CTU-branded ballistic vests going from South Florida to Haiti.
By June 2021, the plotters shifted their plan from forcibly removing Moïse from office by a coup d'etat to an assassination, according to prosecutors.
They "apparently realized that Sanon had neither the constitutional qualifications nor the popular support of the Haitian people to become president," so they switched support from Sanon to a former Haitian Supreme Court judge. But eventually, they settled on assassination after a failed plot to kidnap Moïse on a return trip to Haiti.
On July 7, 2021, gunmen killed Moïse, 53, in a bedroom at his residence. His wife, Martine Moïse, was shot but survived the assault by pretending to be dead. Moïse's death created a power vacuum in Haiti that has allowed criminal gangs, especially in the capital city Port-au-Prince, to unleash a wave of violence and lawlessness in communities.
"Haiti is no stranger to hardship and suffering. While most human beings would consider events that destroy hundreds of thousands of lives, homes, schools and infrastructure tragedies, there are others who consider them opportunities to gain money and power," U.S. Attorney Markenzy Lapointe for the Southern District of Florida said.
Ortiz, Intriago and Veintemilla are charged with conspiracy to provide material support and resources to a conspiracy to kidnap or kill outside the United States, resulting in death; providing material support and resources to a conspiracy to kidnap or kill outside the United States, resulting in death; and conspiracy to kill or kidnap a person outside the United States.
Bergmann was charged with conspiracy to commit export violations; submitting false and misleading export information; and smuggling ballistic vests from the United States to Haiti.
If convicted, Ortiz, Intriago and Veintemilla face up to life in prison. Bergmann faces up to 20 years in prison.