OG STATUS: Tisha Campbell-Martin On "The Simone Biles Story" & Her Gold Medal Career In Hollywood.
The 40-year vet is still making history.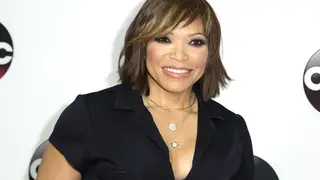 When people say they can "hear a smile" Tisha Campbell-Martin's dimpled visage definitely comes to mind. The joy and gratitude projected in her words even over the phone is infectious. It's a voice that has persevered through the well-documented ups and downs of a four-decade Hollywood veteran.  The ups have changed lives. From Martin, School Daze and A Different World to My Wife And Kids and The Protector, many of us have grown up with the little girl from North New Jersey (by way of Oklahoma) who would dare to act, sing and dance before being a "triple-threat" became requisite for success in the entertainment business. The downs have just made her stronger and her recent successes that much sweeter.  
Her 2018 takeover begins with a starring role as Nellie Biles, the mother of Olympic gymnastics phenome Simone Biles, in Lifetime's The Simone Biles Story: Courage To Soar. In discussing the TV Film and her colleagues, Tisha goes from peer to fan and back again, barely able to contain her excitement and admiration. But when you have as stacked a year planned as Tisha, it's easy to see why.
NOTE: This conversation has been edited for length and clarity.
Do you remember the first time you saw Simone compete?
TCM: Yeah, it was the [2016] Olympics. She was so amazing. I kept hearing about the hype about this girl and how incredible she was. And you know, I started seeing her interviews and you recognized her drive and her motivation. And then when she did that floor exercise, man. I literally had chills. Like it was so amazing.
Watching her medal count rack up was such a moment.
TCM: She's the most incredible talent, but it's what comes out of her mouth that is even more incredible. When I got the role, I started watching interviews, you know, Nellie interviews. And interviews with her dad. And I saw where she got it from. And how she got it. And as a parent, I'm taking in these jewels going, "I hope I'm motivating my children." These people were motivating their children! But they're an incredible family. They made her so goal-oriented but at the same time they kept trying to maintain that you still have to have fun in life. And you still gon' have to do these dishes! That's how my mother was with me. That's how my parents were with me. Because I've been doing this for forty something years. I started [acting] when I was three years old. I started helping to pay bills at five.
What was your interaction like on the set with the actress who plays Simone, Jeanté Godlock?
TCM: She is an incredible actress. I knew Jeanté because Tasha smith, who is one of my closest friends, was her acting coach. And so, I would come in every now and then and teach a class for Tasha if she was out of town or I would drop in and, you know, support Tasha. I met her there and Tasha kept saying she's one of the better actresses. Jeanté was doing extra work when she got an opportunity to do this role. And so, she's so incredibly committed. She utilizes the instrument unlike a young person of this era.
And at what point in the filming process did you get to meet Simone?
TCM: Well, first of all, Simone and her mom and dad came on the day where I had to cry in one of the biggest scenes. I was like, "Man, no pressure or anything!" I have to play you and you're still alive. And they were watching me do a dramatic scene. I was honored because I had been studying them as much as I could. I didn't get a chance to meet them before and I wanted to know how she felt about me playing her.  A lot of times when people see you do a certain genre they forget you do other things. I wanted the challenge of being able to do what I started out doing, which is, you know, musical theatre, theatre, and drama. I remember my first sitcom audition out here in California, when I moved out here, and they was like, "Well you need sitcom classes." I said, "Oh well where do I get those?" She was like "there aren't any." Exactly what she said to me.
Oh my God. What a Catch Twenty-Two.
TCM: So I used to frequent all the comedy stores and all those different Black comedy act theatres, sit in the back and try to figure out what comedy was. And once I figured it out, that's when I started working a lot with comedians and comedic actors. But this is where I come from: drama. I was always that girl. "Aye, you need somebody to cry? Go get Tisha Campbell." So, it was so easy to drop back into that. I was honored to meet them. And I could just relax and tell them how proud of that I was, you know, of all of them as a family.
This is airing at the start of Black History Month and Simone definitely made modern day Black history. How important is it to tell this story and others like hers?
TCM: What they talk about, the Biles talk about, is no matter what you're challenged with, no matter what your environment is, you can change your circumstances. My grandmother used to say to me, "First of all, if you wanna do this, you're gonna have to be extraordinary in order to be considered average. And don't think it's gonna come to you. Don't think the doors are gonna open. You're gonna have to kick the door, kick the door open or jump over a hurdle. And you're gonna have to be the best. "
Did you take any gymnastics as a kid?
TCM: Hell nah. I was paying bills.[laughs] The most I could do was a split and a cartwheel. That was it. That was all I could do. I'm not that girl. I could climb a tree and beat a boy up. I have three brothers. That's the extent.
In the past you've shared traumas from your childhood and Simone has come forward with her own story about her former gymnastics coach, Larry Nassar, who was just sentenced to 175 years in prison for sexual assault. What are your thoughts on the #MeToo movement considering your experience?
TCM: Lemme just say, I'm really extremely proud of her for being so brave. We did not explore this in the film because it was still not [known]. This is all new. It's sad that it happened in her formative years but I can relate to that because I was sexually assaulted and raped when I was three years old. And what happens to a child when those kinda things happen, especially a child like Simone, who's very driven? And, you know, wants to help others, and wants to help her team? And doesn't want to let anybody down? You start to feel like it's your fault. You keep this secret because there's shame. What did I do? Did I do anything? All this confusion and chaos happens in your mind. And it's not your fault.  Because that's what a predator does. They get in your mind. And they wanna make you feel like that. So we stay silent. And if there's anything that we can reflect on, parents it's not your fault. But I think we always have to continuously drill into our kids, come to me. We have to remind them, come to me. So, I'm very proud of Simone and I wish her the best because, you know, this is a freedom and a forgiveness of one's self.
This year is the 30th Anniversary of School Daze…
TCM: That's fucking nuts. Man, I cursed. I'm sorry. I cursed. That's fucking nuts.
Ha, it's ok. Since then we've seen Drumline, and Stomp The Yard, Dear White People, and now Step Sisters, all of these black movies and TV shows that give the black college experience. How do you feel about School Daze thirty years later? And what do you think Jane Toussaint is doing now?
TCM: I think Jane Toussaint is the president of an HBCU. She has a lot of kids. A lot to me is like three. But she still looks good! It's funny because I was eighteen years old when I did that film. It was Spike Lee's second film and I didn't care whether I was an extra or what. I just wanted to be in a Spike Lee film. And I had no idea that I was auditioning for the lead role 'cause I had heard that Vanessa Williams was the lead. And you know, I was, I was just auditioning for one of the girls. [But] I think she was doing another project and it didn't work out. So, when they picked me for the lead, I was like, "huh? Like um really?" So, it was shocking. And you know I didn't get a chance to go have a college experience at that time, because I was still, like I said, paying bills. So I got to really be in that experience. Meeting people, working with great actresses like A.J. Johnson, Jasmine Guy, and Kadeem. And Kadeem, I mean, we've all known each other. Like Kadeem and I used to see each other on auditions in New York. You know what I mean? So, it was amazing that it's been that long. People still love the songs. People still love the movie. It's almost like a required thing to see before you step into an HBCU.  
That and A Different World, which you were also on.
TCM: Exactly. I'm very proud of the legacy of movies and television shows that I've done. It's, it's humbling and shocking at the same time. 
When you were on A Different World you played Josie Webb. That was the first time, I think, I'd seen a character with HIV on television. What do you think you remember about that?
TCM: I adore Debbie Allen and I want to mentor underneath her always. She and that entire group of producers, they were doing things and making statements and affecting people. They were utilizing this genre to not only make people laugh, but make them think. And that's what art is. And it's just one of those moments in time that you just don't know how people are gonna be affected until it comes out. And this is all still so new for the world, you know what I mean? I don't normally talk about my charitable work. I just do it. But, whether it's autism, or, you know, the work that I did for project angel food. I worked with project angel food a lot of the time. So, being able to play this character for so many of our, you know, friends in the business who may have been affected or passed away at the time. I was just nervous and hoping that I was representing [them] well, putting a face that most people might not normally relate to HIV or AIDS. It humbles me to be able to say that I've been in service to as many people for four decades. It has allowed me to serve them. I know what my true job is. I'm actually just being obedient to His word. I'm just doing my job for the greater good. Hopefully, utilizing this platform to teach, to make people feel, to make people cry, to make people laugh, to make people reminisce, to change a mindset, to, to honor love, and all kinds of different things. Remind you of somebody. All of these, all of these things. That's what artists are supposed to do. And if you break it down, you think of like Rembrandt or Shakespeare and how he affected the world. The Harlem Renaissance. Or Biggie. Or Tupac. Or Taraji. You know what I'm saying? Like all of these amazing artists. Not just them, just not telling stories, you know? They're communicators.
Speaking of Taraji, you're going to be on an upcoming episode of Empire.
TCM: Oh my god. First of all, I am so excited to finally work with my girl Taraji. We've known each other over the years and supported each other. We all have this, you know, kindred spirit with one another and the way we are with one another. So this is the first time really getting to be in a scene with her. And she was so supportive. I was so happy. And I got to sing, dance, and act in one piece. Where else can you do that other than Star? Thank you, Lee Daniels.
We can't wait to hear you sing. Your new single is called "I Don't Wanna Be Alone" and of course the title made me think of your classic number from School Daze.
TCM: yeah, it was. But no, it's not the same song! It's completely different. As a matter of fact, the writer, Dave Young, he's never seen School Daze.
TCM: Yeah. I was like, "wow. That's very interesting." I'm also working with Eric Bellinger and some amazing producers on the album. The whole album is done. I'm really, really happy. It's gonna be amazing.
Catch Tisha Campbell-Martin on Lifetime's The Simone Biles Story: Courage To Soar. Airing on February 3rd.