Accused Philly Mass Shooter Said He Was Trying To 'Help' Police Fight Gun Violence
The suspect, Kimbrady Carriker, showed signs of disturbing behavior before his random shooting spree.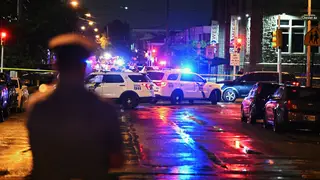 The man accused of a mass shooting Monday night (July 3) in Philadelphia told investigators shortly after his arrest that he was trying to help them combat criminal gun violence and that God will send others on the same mission, The Philadelphia Inquirer reports.
According to prosecutors, Kimbrady Carriker, 40, allegedly opened fire around 8:30 p.m. on a street corner in the city's Kingsessing neighborhood. Armed with an AR-15 rifle, a 9 mm handgun and wearing body armor, the Carriker fired randomly at cars and people in the area.
Five males, ranging in age from 15 to 59, were fatally shot, and two others, including a toddler, suffered nonfatal injuries in the shooting spree. At his arraignment Wednesday (July 5), prosecutors filed five counts of first-degree murder and related charges against him, as well as attempted murder, aggravated assault, and illegal gun possession charges.
There were signs to suggest that Carriker was mentally disturbed. He posted messages to Facebook referencing "evil spirits" and plans to go on "patrols" in his neighborhood to address crime before the mass shooting. In other posts he expressed support for gun rights and the Black Lives Matter Movement.
His roommates told investigators that he routinely wore a bulletproof vest, carried a gun and would scream inside the house. One roommate said Carriker was a "biblical extremist" and thought that the public should help the police fight crime.
Philadelphia prosecutor Joanne Pescatore said at a press conference on Wednesday (July 5) that the roommates' "way of dealing with it was just to avoid it and not interfere with him," The New York Times reports, noting that Pennsylvania lacks a so-called "red flag" law that allows individuals or law enforcement to seek a court order to seize weapons from someone exhibiting threatening behavior.