Amara La Negra Officially Introduces The World To Her Twin Girls—See The Infants' Adorable Faces!
After months of fans' anticipation, the proud mom posted this adorable photo on Instagram.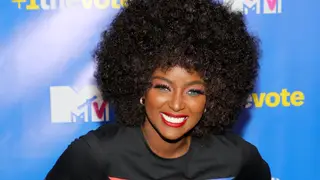 Meet Sumajestad Royalty and Sualteza Empress!
After months of fans' anticipation, Amara La Negra gave her loyal fans a first look at her daughters' faces on Instagram. Spoil Alert: The cuties are just as beautiful and precious as we expected!
"I Present to the World My Daughters," the proud mom captioned a sweet photo of the infants peacefully embracing each other.
See the first photo for yourself!
The heartwarming moment was photographed by professional newborn photographer, Wee Love Photography. 
The big reveal marks the twins' 2-month milestone.
Proud dad Allan Mueses also took to Instagram to share a lovely video montage from his baby girls' first photoshoot. "Blessings keep coming from the sky.✔️Blessed✔️Happy✔️In love with my beautiful 👯‍♂️twins.. Papi welcome you, girls," he captioned the post.