Amara La Negra Gives Birth To Her Twins—Here's What We Know!
The singer took to social media to share the exciting baby news!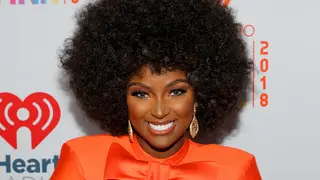 Amara La Negra just announced she gave birth to her twin girls on March 23! The singer took to Instagram to share the exciting baby news on Wednesday (April 6). 
The proud mom was photographed smiling at the camera during the delivery. "3/23 👶🏽💕👶🏽," the new mom captioned the photo on Instagram.
At this time, the Love & Hip Hop: Miami star has yet to reveal the names of her baby girls. However, we are sure the big moment will come on the twins' new Instagram page, which already has 32K followers!
We also cannot wait to see the two new additions' first photo! If their wardrobe is any clue, the pair will be mini fashionistas from day one. Back in March, Amara took to Instagram to give fans a mini-tour of her girls' closet.
"I am so in love with my babies' closet," the soon-to-be mom shared in a 57-second video that showed onlookers her twin girls' adorable onesies, matching frilly dresses, hair bows, and shoes. "I have a little bit of everything."
Congratulations, Amara! Welcome to the mommy club!