Abortion Access Across U.S. Illustrated With New Interactive Maps
The anniversary of Roe v. Wade is going to hit very differently for so many this year.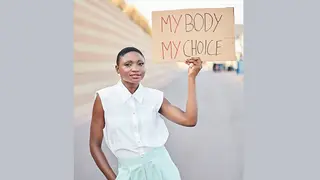 The country will recognize the 50th anniversary of Roe v. Wade on January 22, but it won't be much of a celebration. This year marks the first time one of the most impactful Supreme Court decisions is met with people across the country taking to the streets yet again marching for reproductive rights and abortion access as they once did with the same intentionality in 1973.
Since the ruling was overturned on June 24, 2022, Power to Decide has been overly busy. The non-profit, nonpartisan organization has worked for decades to provide credible information on reproductive health and that includes access to abortion care. Now, the organization is debuting a set of new interactive maps which illustrate the lack of access to abortions in many states across the country. Power To Decide's Abortion Finder interactive maps visually showcases from the time right before the leak of the Supreme Court's decision in Dobbs v. Jackson Women's Health Organization in April 2022 to six months after Roe was overturned leaving millions without access.
"January 22 would have—and should have—marked the 50th anniversary of Roe v. Wade," said Power to Decide CEO Raegan McDonald-Mosley, MD, MPH. "But instead of reflecting on the progress made in improving reproductive well-being for people over the last half-century, we are again fighting for the right to access abortion care. The new abnormal for abortion as well as reproductive well-being more broadly can be described in only one word: chaos."
Since the decision was leaked last May, Oklahoma became the first state to enforce a total abortion ban. South Dakota had one abortion provider in the state and that facility closed soon after the leak. Two days after the ruling, nine states followed where medical facilities providing abortions were forced to close. The chaos that followed resulted in 14 states banning abortions. More than 72 million people in need of abortion care, sometimes forced to cross state lines, are confronted by misinformation and confusion about the legality around bans and restrictions.
"The barriers to abortion access have always been disproportionately high for young people, people of color, people living in rural areas, and people struggling to make ends meet," said Dr. McDonald- Mosley. "These new abortion bans and restrictions put people's health at risk and ignore the critical need for such care.
"Abortion care is every bit as necessary as it was before Dobbs, or Roe, or at any point in history. It is essential, time-sensitive care that protects people's health, their families and their lives. With Abortion Finder and other resources from Power to Decide, we will continue to connect people with information and access to care as quickly and seamlessly as possible."
Click here to see the latest updates to the Abortion Finder interactive maps including a timeline since Roe v. Wade overturned.