Timbaland And Swizz Beatz Sue Triller For $28M
Triller acquired the music competition series back in March 2021.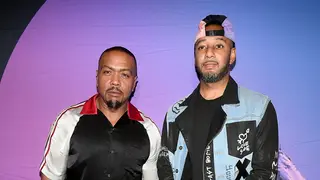 Timbaland and Swizz Beatz's Verzuz has filed a lawsuit against Triller for a breach of contract, alleging that the company owes them more than $28 million.
According to The Hollywood Reporter, back in March 2021, Triller announced that it would be acquiring the then-remote music competition series, which has now transitioned to in-person live events, first streamed live on Instagram at the start of the COVID-19 pandemic in March 2020.
Triller acquired Verzuz for an undisclosed amount but it was shared that the award-winning record producers were shareholders in Triller Network.
Now, the sum amount is being revealed that the deal was in the mid-eight figure range and was to be paid in installments, THR notes. Triller made the first two scheduled payments but the company quickly defaulted on their agreement in January 2022, according to the complaint filed in L.A. County Superior court by attorneys from Singh Singh & Trauben.
Timbaland and Swizz Beatz then entered a settlement and payment agreement with Triller in February, the terms included that Triller would pay both parties $9 million by March 17, before moving to $500,000 payments per person on the first of the month for 10 months.
Triller again defaulted on the agreement and hasn't made any form of payment since, the complaint states.
"If Triller breaches any payment obligation under this Agreement and fails to cure within five (5) days after receiving written notice of such breach, the full unpaid amount remaining due under this Agreement shall become accelerated and be deemed immediately due and payable, and with respect to any such breach, Triller hereby permanently waives and releases all claims and defenses of each and every nature, both legal and equitable ('Waived and Released Claim(s) and Defense(s)') except that timely payment was in fact made by Triller," the complaint shares in the agreement.
Adding that "the prevailing party shall be awarded its reasonable attorney's fees." Since Triller's only defense allowed under the settlement is "timely payment."
Timbaland and Swizz Beatz are seeking compensatory damages of $28,095,000 plus attorneys' fees and costs, as well as pre-judgment interest.
The last Verzuz paid homage to Latin producers Luny Tunes and DJ Nelson back in July of this year. Other notable Verzuz matchups include Omarion v. Mario, Mary Mary v. BeBe and CeCe Winans, Anthony Hamilton v. Musiq Soulchild, Big Daddy Kane v. Krs-One, Ashanti v. Keyshia Cole, Gladys Knight v. Patti LaBelle and more.