BET Awards 2023: 5 Fiery Moments from Busta Rhymes' Epic Lifetime Achievement Award Tribute
This performance may have raised the bar for musical tributes.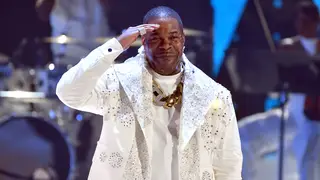 Legendary rapper Busta Rhymes was honored with the prestigious "Lifetime Achievement Award" by actor Marlon Wayans and producer Swizz Beatz. The "Break Ya Neck" emcee tearfully accepted the recognition for his outstanding contribution to hip hop and the culture.
The industry veteran later wowed viewers with a performance of a medley of his classic records, including "Scenario," "Ante Up" "Look At Me Now," Break Ya Neck," "I Know What You Want," and "Put Your Hands Where My Eyes Could See," alongside Spliff Star.
With the BET Awards 2023 all wrapped up, we're looking back at some of the highlights from this year's ceremony. If you missed culture's biggest night, keep reading to see all the memorable moments from Busta Rhymes' epic "Lifetime Achievement Award" tribute.
Veteran emcee gives a heartfelt speech

During an emotional acceptance speech Busta gave thanks to his family, friends, and fans out there before calling for more comradery among artists in hip hop.

Performance with rising rapper Scar Lip

The honoree shared the stage with several rising rappers that evening including Bronx native and gritty emcee, Scar Lip who performed her latest single "This is New York."

Performance with Coi Leray

Coi Leray delivered a sizzling Busta-inspired rendition of her latest single "Players" sporting a fly outfit paying homage to fellow female rap peers.

Surprises appearance by several veteran industry figures

The guest appearances were plentiful with several more performances by Rah Digga, Dexta Daps, Spice, SKillibeng, and Butty Ranks.

Busta and Spliff Star perform a medley of hits

Longtime collaborators Busta Rhymes and Spliff Star delivered an unforgettable medley of hits featuring tracks such as "Ante Up," "Scenario," "Break Ya Neck", "I Know What You Want," and more.