'Everything Black' Presented by Ford
A daily reminder of African-American contributions to our world.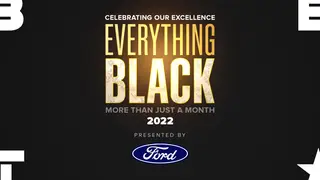 Knowing details about the past can only help to reinforce our steps into the future. This Black History month, BET celebrates those who have been a catalyst for change and directly responsible for elevating our culture. Each day, we will shine a light on the leaders who have made a commitment to Black excellence in more ways than one.
#EverythingBlack presented by Ford.
Tuesday, February 1, 2022

Wednesday, February 2, 2022

Thursday, February 3, 2022

Friday, February 4, 2022

Saturday, February 5, 2022

Sunday, February 6, 2022

Monday, February 7, 2022

Tuesday, February 8, 2022

Wednesday, February 9, 2022

Thursday, February 10, 2022

Friday, February 11, 2022

Saturday, February 12, 2022

Sunday, February 13, 2022

Monday, February 14, 2022

Tuesday, February 15, 2022

Wednesday, February 16, 2022

Thursday, February 17, 2022

Friday, February 18, 2022

Saturday, February 19, 2022

Sunday, February 20, 2022

Monday, February 21, 2022

Tuesday, February 22, 2022

Wednesday, February 23, 2022

Thursday, February 24, 2022

Friday, February 25, 2022

Saturday, February 26, 2022

Sunday, February 27, 2022

Monday, February 28, 2022