Black Leaders Want Rep. Steve Scalise to Denounce Hate Groups From House Floor
Wade Henderson and Marc Morial sit down with Rep. Steve Scalise.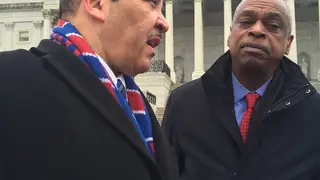 (Photo: Joyce Jones/BET Networks)
Louisiana Rep. Steve Scalise's rise into the House Republican leadership ranks began on a sour note when it was disclosed that he delivered a speech in 2002 before the European-American Unity and Rights Organization founded by former Ku Klux Klan grand master David Duke. On Tuesday, National Urban League president Marc Morial and Wade Henderson, president of the Leadership Conference on Civil and Human Rights, met with the majority whip and called on him to publicly rebuke hate groups and Duke in a speech from the House floor.
"We were troubled by his state House vote against the Martin Luther King holiday. We were concerned about his opposition to naming a U.S. postal office after a distinguished civil rights lawyer and judge in Louisiana, Lionel Collins Sr.," Henderson explained. "And we believe that the totality of those issues raises questions about whether Mr. Scalise can be fair in his position as majority whip because that is a responsibility that is national in scope."
Morial noted that it was not possible to achieve much in a 60-minute meeting but said it was a good first step. In addition to the request for Scalise to make the floor speech, they asked him to facilitate a meeting between the House majority leadership and civil rights leaders to discuss "pressing issues facing the nation," such as criminal justice, immigration and education reforms, job growth and investment in the nation's infrastructure.
The NUL chief said that Scalise seemed open to requesting a meeting with Speaker John Boehner and Majority Leader Kevin McCarthy, and that such a meeting was long overdue and should be held consistently for the good of the entire nation.
Henderson and Morial are also hoping that he and other top GOP leaders will agree to hearings on the Voting Rights Act Amendment that the Senate passed in the last session of Congress with bipartisan support.
"One might ask the question do we believe that Mr. Scalise should continue to serve as whip. The answer is we're reserving judgment on that question at this time because the issues we discussed are of paramount importance to our constituency and also to the nation at large," Morial said. "So this is one step and we will await a response to our request for a follow-up meeting and further discussions."
BET Politics - Your source for the latest news, photos and videos illuminating key issues and personalities in African-American political life, plus commentary from some of our liveliest voices. Click here to subscribe to our newsletter.