Soul Train Awards 2023: 5 Things to Know About Producer and Artist Fridayy
The musician has already worked with artists including Chris Brown and DJ Khaled.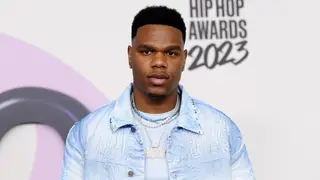 2023 has been a significant year for singer, songwriter, and producer Fridayy.  The Philly native earned his breakthrough moment by appearing on DJ Khaled's "GOD DID" alongside Rick Ross, Lil Wayne, John Legend, and Jay Z. This powerful collaboration propelled Fridayy into the spotlight and earned him three Grammy nominations.
His determination is evident in his work, with notable placements on projects by acclaimed artists such as Chris Brown and Lil Baby. He notably joined forces with the Atlanta emcee on his 2022 album "It's Only Me (Forever)."
The multi-talented star is steadily carving his path to fame within the music industry. Don't miss out on witnessing his meteoric rise. Until then, familiarize yourself with the star by checking out these intriguing facts.
He's Haitian-American

Fridayy was born Francis Leblanc to Haitian parents. He was born and raised in Philadelphia, PA.

He's already scored 3 Grammy nominations

Appearing on the title track for DJ Khaled's latest album "GOD DID," earned the singer three Grammy nominations at the 2023 ceremony, including "Song of the Year," "Best Rap Song," and "Best Rap Performance."

His parents didn't initially approve of him wanting to pursue music

"They would always be like, "You're talented, you're a genius, you play every instrument, [but] make sure you go to college. Make sure you get a stable job so you can take care of us and yourself,' he said of his parents.

There was a strategy behind his stage name

The singer revealed he got his stage name right before going off to college, telling Billboard, "The Weeknd and PartyNextDoor, they was my favorite artists at the time. I came up with something to try to get Drake's attention [and] try to be part of OVO." He added,  "I went to college introducing myself [as Fridayy], and it stuck because nobody knew me by my real name."

He's a multi-instrumentalist

Fridayy taught himself how to play the piano, guitar, bass, and drums at an expert level but doesn't know how to read music.