Wendy Williams Looks Stunned After Getting Brutally Checked By This Celebrity Guest On Her Own Damn Show
The talk show host got a taste of her own medicine.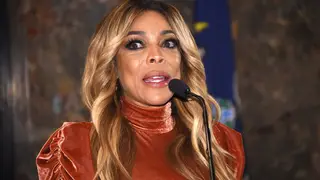 Wendy Williams has garnered a reputation for, above all, gossiping about other celebrities. Expectedly, her commentary and unsolicited opinions about their lives are often met with feelings of hostility and resentment, but rarely do the subjects of her "Hot Topics" segments come face to face with her to speak their minds.
This, however, became a reality when this celebrity guest gave the talk show maven a taste of her own medicine right on her beloved purple couch.
The guest who, without hesitation, checked Williams on her own show is pro-Trump actress Roseanne Barr.
Appearing on the show to promote the reboot of her eponymous sitcom, things got a bit awkward after Williams began questioning the actress about her ex-husband.
For a bit of context, Barr's ex, Tom Arnold, was recently asked by The Hollywood Reporter to write a review of her sitcom's reboot. After becoming privy to this knowledge, Williams asked her during the interview if the two were in a good space, to which Barr responded, clearly saying they were not.
After Barr attempted to change the direction of the conversation by making a Harvey Weinstein joke, Williams kept prying, continuously asking questions about their failed marriage. This is when Barr decided to put the host in check.
"I don't like talking about husbands, right Wendy," she asked before rolling her eyes and smiling.
Williams, shocked by the clapback, appeared a bit flustered for a moment before continuing with her line of questioning.
Wendy Williams is yet to confirm or deny the rumors that her husband, Kevin Hunter, has been cheating with his alleged therapist, Sharina Hudson. The news blew up after it was reported that he purchased her a house a few miles away from his family home with his wife and son.